Most bloggers who are working with brands never expected to get these opportunities when they first began their blogs. Blogging was a forum where they could share their thoughts and opinions with a small community of people who shared similar interests. But a funny thing happened along the way – brands took notice and started hiring bloggers to help them to connect with customers.
During the past few years, the relationships between brand and bloggers have evolved and grown. In the early days, companies reached out to bloggers to review products and hold giveaways. Now, many bloggers are responsible for handling brands' social media networks, blogs, and public relations campaigns.
Through my fatherhood blog, Mocha Dad, I've worked with dozens of brands. I've had some great (and not so great) experiences and I've learned many lessons. Last year, I spoke on a panel titled "Blogger and Brand Relationships – Taking it to the Next Level" at SocialRevup's BBSummit12 in Chicago. Below are a few of my thoughts on how bloggers and brands can work together more effectively.
BBSummit12:  What do you think a brand can reasonably expect from bloggers, and vice versa?
Goodall: All expectations need to be clearly identified in a formal contract that is signed by both parties. This document is extremely important because it is the basis of the working relationship. When things don't go as expected, both parties can refer to the contract for guidance. After that framework is in place, brands can expect bloggers to deliver compelling content on a regular basis and interact with the brand's customers in person and virtually. On the flip side, brands must show support to bloggers by promoting their posts and social networking activities. Brands often miss an opportunity for promotion by not prominently placing the blogger's posts on their websites and social media networks. The relationship between bloggers and brands is symbiotic. All parties must work together and cooperate in order to have a successful campaign.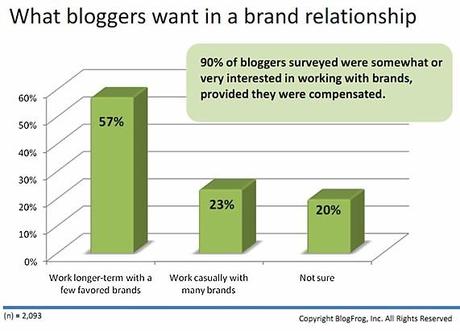 BBSummit12:  What is the best way for bloggers to position themselves to work with a brand at this level?
Goodall: Bloggers can position themselves to work with brands by building an audience on their blogs. You have to prove your ability to create a platform. You also have to display a positive attitude. I've seen too many bloggers miss out on opportunities because of their online rants. It's fine to be opinionated, but when you get a reputation as a whiner or as someone who is difficult to work with, brands will shy away from you.
Once you've established yourself in your blogging niche, brands will start to take notice. But they won't drop the opportunities in your lap. You must do some work to convince the brands that you are the right person for the job. It's okay to contact brands and sell yourself. Your key message should not be, "I'm a great blogger so hire me." Instead, it should be, "I've grown my blog and my following and I'm sure I can help your brand to do the same." Brands are most interested in how you can help them. Showing how you can help them will make it easier to develop a long-term relationship.
BBSummit12:  What are some no-no's?
Goodall: There are a few things that bloggers should never do when acting on behalf of a brand. Never bad-mouth the brand on public forums or via social media. Never miss deadlines or fail to deliver what you promised. Never violate the terms of your contract or do anything unethical. I've seen a few bloggers who were too demanding and had unreasonable expectations about what the brand should do for them.  Bloggers cannot display a sense of entitlement. Brand managers are turned off by this behavior. It's much better to slowly build a relationship by displaying humility, professionalism, and confidence.
BBSummit12: What kind of research do you do before working with a brand?
Goodall: Before I agree to any project, I want to understand the brand's goals. After I know what they're trying to accomplish by working with me, then I get specific details such as what they expect from me, what are the posting and social media requirements, etc. Sometimes I can't meet the requirements and I have to decline. I'd rather not do the job if I can't do it right.
Come back tomorrow to read Part 2 of my interview about Brand and Blogger Relationships.