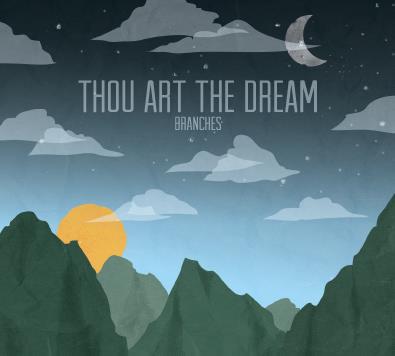 Helicopter – Branches // Buy
Branches (@branchesmusic) are the kind of band who charm you right from the start — it's pretty hard not to love their cheerfully catchy melodies and subtle yet inspiring vocals. Having familiarized myself with their EPs, Cabin and O' Light, I was definitely expecting more pop-driven elements on their full release. What Thou Art The Dream provides, though, is a matured sound, featuring heavier folk accents that still pay homage to the band's poppy roots.
Thou Art The Dream adds onto the band's predominantly banjo, percussion and acoustic guitar based sound by incorporating ukulele, trombone, trumpet, violin, and toy organ, demonstrating the range of talent in Branches. With each strum of the banjo, each vocal harmony and each percussive build they create an emotive musical experience.
The opening track, "Helicopter", sounds commercial-worthy, and I say that in the most flattering way possible. It's bright, upbeat, and catchy as hell. That song, along with "To The Desert", is what I would consider the epitome of Branches. However, the more gentle songs, such as "Planes" and "In Your Eyes" keep in line with their past repertoire and help to balance out the album. In fact, with a unique hymnal vibe, "Going Home" is one of my favorite tracks on Thou Art The Dream.
At times, this album gives off a very folk-rock sound. The quick paced strums found in "Lines" paired with vocals that build into an eruption sound a lot like a loud Mumford & Sons-esque track. At other times, they hone in on a softer blend of folk sound, much like what The Head & The Heart do so well, using simple instrumental backing to highlight their male-female partner duets. For a band that's still in its early stages, Branches are really secure in their style and execute it beautifully, a sign of genuine artistry and devotion to the music.