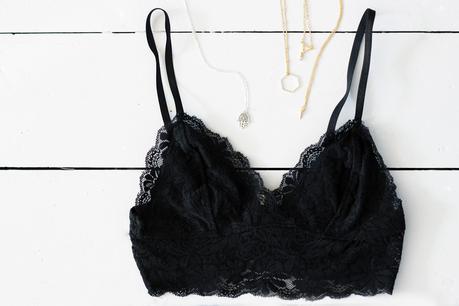 I try not to blindly follow trends, but this one just grabbed me and I can't get enough of it. I was lucky enough to be given a lace bralette by my two sisters for my birthday and I've hardly stopped wearing it since. Mine's from Pull&Bear, but these lace beauties can be found pretty much anywhere now and I'm still on the hunt to add some more nice ones to my collection. 
Nice lingerie just makes all the difference to my mood and these bralettes are so pretty that it's almost acceptable to show the world them too. Let it peak out under a tshirt or through a sheer shirt or crank up the intensity and wear it with a low, loose tank top. 
I've honestly never worn a more comfortable bra, and they are fab for those less well endowed in the chest area *ahem* - although I'm sure you could find some more supportive options out there. Great for warmer weather, but also really nice for layering too, I love wearing mine with some boho jewelry to add to the relaxed feel. The silver necklace pictured above is my hamsa hand from Moontide Jewellery, which is an almost everyday wear for me, but if I want to make it a tad more dressy I also love the gold stacking necklaces from Happiness Boutique. 
If you have any recommendations of where I can get some more I'd love to know, otherwise I'm going to look into a DIY version. 
What do you think of lace bralettes?