Country music superstar Brad Paisley came to Woodbine Racetrack on Friday night to the delight of the fans in attendance. The chart-topping fan-favourite also served as the main event opener of the 2018 Queen's Plate Festival.
After a hot, sunny day of action on the racetrack, we headed into the festival area to sample drinks (who can say no to a Caesar on the Canada Day long weekend?), check out the vendors, and make our way up to the stage to get ready for the show. The crowd came in, slowly at first, and grew as we got closer to Paisley taking the stage.
The live music started with Dan Tyminski on the Queen's Plate Festival stage playing covers we know and love from bands like The Allman Brothers and tracks from his 2017 album, Southern Gothic.
Tyminski, best known for his career with Alison Krauss and Union Station and as the voice of Avicii's 2013 hit, Hey Brother, brought a full-on country sound and vibe to the stage. His voice was strong, and the band was tight as they played songs from the album including Breathing Fire, Perfect Poison, and Southern Gothic. And while he may not be a household name for all country music fans, the 14-time Grammy Award winner was a great start to the live music on Friday night.
This slideshow requires JavaScript.
Note: We were greeted by a rock-styled DJ set from USS 's Human Kebab who worked his magic on the second stage in the early evening sun.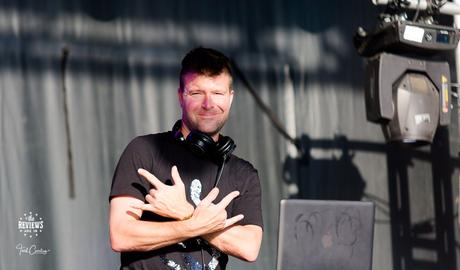 When it was time for the main event, the crowd at Woodbine Racetrack got themselves ready for the show they had been waiting for.
There was a buzz in the hot summer air, the kind we've gotten used to when thousands of fans know they're only minutes away from seeing one of their favourites up on stage in front of them. So when Brad Paisley's intro started playing, and he came out onto the stage, we weren't surprised to hear a big cheer come from the Toronto audience.
We've had the chance to see Paisley play live a few times over the last decade or so, so we knew we were in for a treat. But even with that experience in our live music lives, the guitar-pickin' West Virginia native still wowed us with his presence and performance. He opened the show with Last Time For Everything and ended the song with a tribute to Prince's Purple Rain. And then, like it was nothing, he flowed perfectly into the iconic intro to Alabama's Mountain Music before playing Old Alabama. It was a strong start to the show from a performer that knows exactly what he's doing up there and had a lot more to give before the night was through.
This slideshow requires JavaScript.
Note: We don't want to brag, but Brad Paisley did play nine of the 13 songs we put in our preview for the Queen's Plate Festival show. Thanks for backing us up Brad!
Throughout the night Paisley paid tribute to Canada to the delight of the crowd. He shouted out Tim Hortons. He played a little snippet of O Canada. He drew a maple leaf on the guitar he signed and gave to two young brothers in the front row. And he took a moment to thank Canada and the Canadian Forces for supporting the United States after 9/11. In a time when relations between our two nations can be described as fraught, it was nice to hear all of those things.
And, without getting too political, the overriding theme of celebrating immigration and multiple cultures coming to America in American Saturday Night was a welcome message as well.
Brad Paisley's guitar playing has long been celebrated. He's a master with a six string, and on Friday night he had more guitar switches than I could count. But we want to take a quick minute to shout out his band, who are also fantastic. They were tight all night long, and right where they needed to be to support Paisley's performance from start to finish. Good job by them.
This slideshow requires JavaScript.
As the sun went down and the full moon took its place in the summer night sky, Brad Paisley continued into the second half of his good-timin' set. With songs like Then and She's Everything inspiring couples to dance and hold each other tight, and tracks like River Bank, Southern Comfort Zone, and I'm Gonna Miss Her (The Fishin' Song) creating a giant singalong, all felt right at Woodbine.
The show wrapped up with fan favourites in Mud On The Tires, Today, and Alcohol as Brad Paisley showed that he was just as enthusiastic and giving on stage at the end as he was at the start.
If you've never seen Brad Paisley live, put him on your list. If you have seen Brad Paisley live, you know that he's a treat. And if you were at Woodbine Racetrack in Toronto to see Brad Paisley at the 2018 Queen's Plate Festival, you know that he was awesome.
Many thanks to Woodbine Entertainment for having us, we can't wait for the big race and Sam Roberts Band on Saturday!
Brad Paisley Setlist, Queen's Plate Festival 2018, Toronto
🏇 Last Time For Everything with Purple Rain outro
🏇 Old Alabama with Mountain Music intro
🏇 The World
🏇 Perfect Storm
🏇 Water
🏇 Crushin' It
🏇 This Is Country Music
🏇 American Saturday Night
🏇 Ticks
🏇 I'm Still a Guy
🏇 Remind Me ft. Carrie Underwood
🏇 Celebrity
🏇 Then
🏇 She's Everything
🏇 River Bank
🏇 You'll Always Be My First (Cousin)
🏇 Man Of Constant Sorrow ft. Dan Tyminski
🏇 Southern Comfort Zone
🏇 I'm Gonna Miss Her (The Fishin' Song)
🏇 Mud on the Tires
🏇 Today
🏇 Alcohol