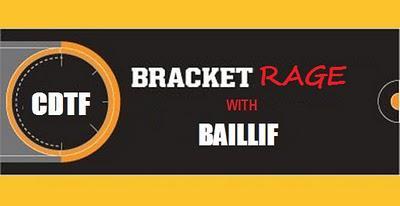 Before the Sweet 16 kicks off, Gene is back for some bracket banter. In terms of our brackets, he is still kicking my ass. And pretty much everyone else in our group. But after last weekend's craziness, he isn't very happy. 
Gene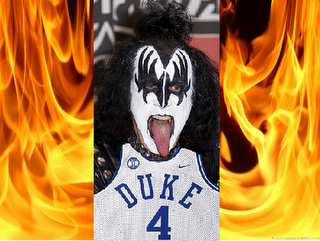 The battles on the hardwood raged on last weekend, but now the dust has settled.  And the bracket damage is fairly massive.  Thanks to a custom scoring system which gave major bonus points to correct upset picks, I still find myself leading my Yahoo Pick 'Em group, but I am two picks away from the top in my ESPN group.  My brackets are hanging on for dear life.  So this is getting ugly for everyone, especially me.  How ugly?  I'm relying on Wisconsin to make it to the championship game.  Yeah, that ugly. The plan for today is the same as last time: I will start off happy and positive, and work my way into a foamy angry rage lather. Bi-polar? What does that even mean?


Bailrage's Bracket Heroes


VCU!  Remember that miracle I was hoping for? Well it happened in a HUGE way! VCU crushed Purdue, and more importantly, trashed the Purdue bandwagoners' brackets. This upset SCREWED a bunch of you! I loved it! This greatly mitigated the bracket atrocities of Georgetown. VCU coach Shaka Smart is the Latin Brad Stevens! I was hoping this game would ensure the match-up between Kansas and "The Team Which Shall Not Be Named Yet."  I can't name them yet because we are still being positive and I can't think of them without jumping straight to angry. So good job VCU!  Your region looks like a bomb hit it and killed off all the favorites. I can almost see Virginia Tech's Seth Greenburg sitting at home screaming "THAT COULD HAVE BEEN US!"  No it couldn't have!  VT would have choked for sure! Snub city baby!
Richmond: Another happy note, although it means very little in terms of my brackets, is that the Spiders made the Sweet 16.  I found a video of the Richmond Spider mascot dancing around. He can barely walk or move his arms, but he looked so damned happy that it made me happy too.

You know what, Spiders?  It would mean the death of at least one of my two brackets, but you have my permission to beat Kansas.  Go ahead! I love you that much! 


The Middle of the Pack

:


Duke vs. Michigan: Boy, was that a close one.  Uncle Toms 3, Hood Rats 0, eh?  Take that Jalen Rose!  I'm happy we got the win, but Duke turned the ball over a ton by throwing shitty passes.  Credit Michigan's defense, although the Plumlees helped. That 1-3-1 zone isn't something Duke sees very often, and it frustrated them.  To make matters worse, Duke was pretty bad from the charity stripe, especially in the first half.  That shit can't happen if we want another title. Singler's three-point shooting is still an issue.  I'm hoping he fixes that before tomorrow, or at least stops shooting them so often.  Kyrie looked pretty good, especially from the line. Ryan Kelly had a great game, as he usually does when he comes off the bench. I thought Nolan Smith was his usual monster self down the stretch, breaking ankles and crushing dreams.  I was really impressed with Michigan's coaching staff.  They recognized their inability to run sets against the well-prepared Duke defenders and started to take advantage of man-to-man mismatches. They bagged some easy points in the paint as a result.  I have a feeling Michigan is back on the road to becoming a perennial force in the Big Ten. That said, despite Duke's lack of a killing blow, I think this game could have been played 10 more times and Michigan wouldn't have gotten any closer to winning. Now Duke gets a much-needed week to get Kyrie Irving some practice time and improve his conditioning/lateral movement.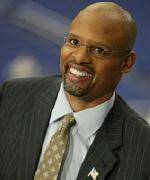 Clark Kellogg: I do not normally like anything that comes out of his mouth, but during the game he actually made a good comment. He said: "Wolverines don't go away. You have to kill them."  It's funny because it's true.  I've never been a fan of Clark Kellogg.  I think he's the Captain Obvious of college basketball commentators.  If he wasn't calling games, he would have made a career out of reminding people to breathe.  He's the king of comments like "Oh, he should have pulled up for the jumper," when someone gets a charging call, or "Oh, he should have went to the rim with that one," when a player takes the pull up jumper and misses. Really? No shit! Where were you when we needed you five seconds ago?  He's a former Buckeye player and I expect him to get really annoying if Ohio State continues to advance. 
Wisconsin vs. K-State: Wisconsin survived a close one and advanced against Kansas State, despite Jacob Pullen playing out of his mind.  Pullen almost single-handedly broke my bracket.  At one point, he was 6-6 from beyond the arc (he finished 6-8) and he was punishing the Badgers on both ends of the floor.  He's a warrior, and has the impressive Leonidas-style chin strap facial hair to go along with it.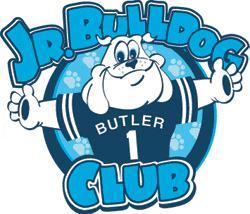 Butler vs. Pitt:  Crazy ending. The foul calls on both teams at the end of the game were legit, nobody is disputing that. That said, I'm really surprised the fouls were made, and even more surprised that they were called.  I figured Pitt would be the first 1-seed to fall, but I had them winning this game and losing the next. This one hurt, because there were a few people who picked Butler for the upset. But this game was the first game I found myself cheering against my bracket pick.  It's not because I like Butler, because I don't, although I'm a fan of Brad Stevens. My problem was that I had serious second thoughts about the Wisconsin vs. Pittsburgh match-up.  I feel like the Butler win will help Wisconsin continue to advance.  I'm not feeling all that confident about picking Wisconsin to the Final Four, and now I feel like an overprotective mother with a shrimpy badger baby.  I want to cover that badger baby in bubble wrap and strap a helmet on it before I let it leave the house. Butler doesn't have a lot of offensive firepower, and I'm pretty sure Wisconsin will handle them (knock on wood). On a slightly more angry note, Nasir Robinson's foul of Matt Howard in the final seconds was epically stupid.  Like really fucking stupid.  It was right up there with Chris Webber's time-out, although the consequences were not quite as bad.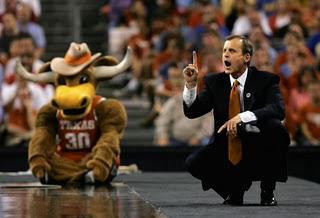 Arizona vs. Texas: I didn't mind the result of this game, even though it hurt my bracket.  A Duke repeat is more important to me than the brackets, and I feel like Duke matches up better against Arizona than they would against Texas.  I also see it as a good omen that Duke must knock off another team they beat to previously win a national championship. The down side to this is that Duke is going into an extremely hostile environment out west: 1. Arizona fans hate us and there's going to be a ton of them in the building; 2. Connecticut fans hate us; 3. SDSU fans don't want to play us because they are massively overrated imposters and know they will lose. I am not all that surprised that Texas lost. And it is all because of Rick Barnes. If I had a dollar for every time I heard someone say they were waiting for Rick Barnes to "find a way to lose with a super talented team," I'd be flying to California to watch Duke play in a private jet.  Speaking of Rick Barnes, I saw him licking his lips a ton like he was some sort of lizard.  It was really fucking creepy.  What the hell was he doing sticking his tongue out so much? Tasting the air? 
Jim Burr: My hero referee from the first round decided to work against my bracket this time.  What the hell, Jim?!  I thought we were friends!  Now it is pretty clear to me that you're just a closet Arizona fan and will do whatever it takes to make sure they move on.  Get your tin foil hats on tight people.  There's an Arizona/Jim Burr conspiracy, and I pray he doesn't officiate the Duke/Arizona game. 


The Wall of Shame

:


Marquette: You really, really fucked me. And you went on to cause massive damage to my brackets.  You were a hero yesterday, but today you're just bracket cancer.  Damn you dreadlocks!   Damn you DJO, the assassin from the Big East! Damn you for helping Butler!  Murderers Row is not living up to the hype because all of the murderers are killing each other, and Ohio State looks like it might just get a cake walk to the Final fucking Four. You may as well keep going now, Marquette.  Crush the Tarheels, and then punish Ohio State or Kentucky. The worst part about this is the Tarheels get to face man-to-man defense instead of the Syracuse zone!  This is so totally not cool!
Notre Dame vs. Florida State:  Soon after experiencing the shock of Syracuse's choke, I changed the channel to see Notre Dame losing badly to one of my earlier upset picks, Florida State.  My world was turned upside down, as I realized that every single upset pick from my first round is running wild through the brackets like angry, rampaging elephants. To put it lightly, the Seminoles found the Fighting Irish's pot of gold, emptied it, and then proceeded to beat the Irish to death with it.  This beat down was so bad that, if Notre Dame's players were really Irish, it would have been classified as a hate crime. Part of me relished in the loss of yet another Big East team.  I was tired of hearing all the talking heads drone on about how the ACC was so much weaker, while gushing about the Big East.  As a young ACC improved over the course of the season, it became a huge lie that was incessantly repeated.  For those keeping count, there are three ACC teams remaining in the tourney, and two Big East teams.  We started with four and the Big East started with 11! Over-fucking-rated!  FSU didn't even need much help from Singleton; he barely played.  I was also happy to see Tyler Hansborough's baby brother lose and mope around.  If I can't see Psycho T lose, this is the next best thing.  Also, who ends up with a last name like Abromitis anyway? It sounds like something you take antibiotics for. And isn't Notre Dame's coach Mike Brey funny looking? If Jack Nicholson and Robert from Everyone Loves Raymond had a secret love child, it would pop out looking just like Mike Brey. Love means never having to say you're sober! 
And Syracuse!  What the fuck!?  You ruined my Final Four!  Why can't you take care of the ball!? How can you turn the fucking ball over so many times in one game when the other team is wearing BRIGHT FUCKING YELLOW?!  They aren't hard to see or tell apart from your teammates, so why keep passing them the fucking ball!? I almost feel bad for Boeheim, and can understand why he snapped on the press so many times over the past few seasons, because he's stuck coaching a bunch of talented morons. And that has to be really frustrating.
How does that only have 3000 views? Nearly all the Marquette points were off transition turnovers before Syracuse could set up their defense.  Boeheim is at least partially at fault here, because lets face it, he obviously can't go deep in the tournament without Carmelo Anthony.  Despite the loss, I still like Jim Boeheim because he is a fellow college basketball rageaholic, a man after my own heart.
It's been a wild first weekend. I suspect my brackets will not survive next weekend, but that's why they call it March Madness – it's bound to piss a bunch of people off.  Do or die time now. Go Duke! Go Spiders! And for the love of God, hold on, Badgers!
A big thanks to Gene and his anger issues. Check back tomorrow for CDTF's Sweet 16 Preview. It will be anything but sweet. One day until March Madness continues!