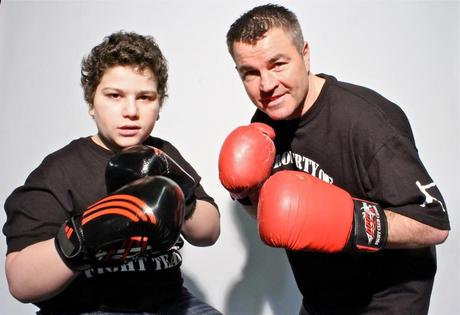 Here is the latest updates from Mike on the Road. He is currently in Alberta.
For those who don't know, Mike Strange is a former Olympic Boxer and is currently running across Canada to help "Knock out Cancer". He started out where Terry Fox was forced to abandon his journey of hope – in Thunder Bay, ON.  He has been running since April 12 – 40km per day. You can read all about what he is doing at www.boxrun.ca and please go to his facebook page and click "like" – it is located at www.facebook.com/boxrun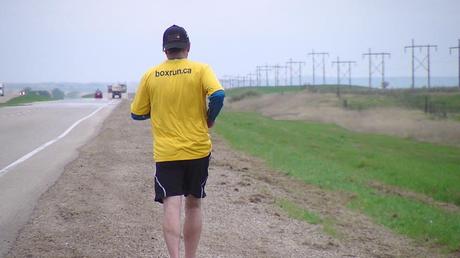 Sorry that i didnt make my post last night but there was no internet where i was so i am doing both BoxRun day #50 and 51 today.Boxrun day #50 was obviously a milestone in itself but i was determined for another milestone and it was to get Brad Sawyer to run 40 km.The first 24 km were tough but extremely tough for Brad as his groin was really bothering him and i kept saying to him that we are going to make it.We were at our last 15 km and Brett,Jack and Tim decided to run 5km each with us and at the end of it all ,Brad was exhausted but made it to the finish with 40km under his belt,so proud of him.We stayed in Bassera ,Alberta above a bar which was different but was comfortable and great steaks even though Tim had to cook it!haha!
Boxrun Day#51 was a perfect day as it was 21 degrees and very little wind and sunny,we had breakfast at a local restaurant and was off on our run.Brad took the day off as he said he couldnt see his ankle bones cause they were so swollen so i ran by myself for the first 31 km and felt great the whole day and my energy is back for now,the last 9 km Brett and Jack ran with me and then ended up being 10km cause Brad couldnt find a spot for the RV to park .So 41km was the finish today and we are about 85 km east of Calgary and are staying in Strathmore,Alberta tonight.our dedication was to Mark Burrows sister Deborah who passed in March of cancer,the whole family misses Deborah and are thinking of her!!!!!
I want to thank Jay Maclean for raising 971.00 dollars last night at the Niagara Falls City workers euchre Tourney at the gales centre and gave all the proceeds to the BoxRun cause,thank you every body who attended including Wayne Gates,Dean Iorfida and all the boys!!!
Good luck Julie Roy as she is getting married tomorrow and i wish i could be there to see you Julie but I have to be here for this unbelievable cause.I know you will be such a beautiful Bride and Mike is such a lucky guy,and Ryan Arthur Good Luck at MCing even though you were second choice!haha!