As you may know, my husband's party was this past weekend.  He opted for a bowling theme.   Well. He wanted to go bowling.  I decided that would be the theme. Ha! And why not!? He's loved bowling for over 15 years.
It was time he had a bowling party.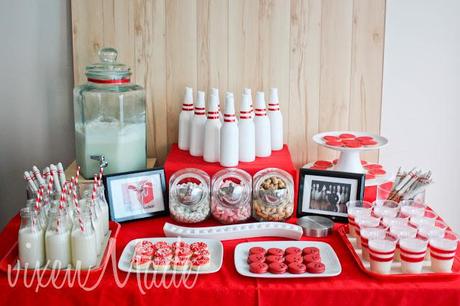 Here we go!
Oh the infamous drink jars.  I can't get enough of them really. Something about the jar and paper straw makes me happy.  I know.  It doesn't take much.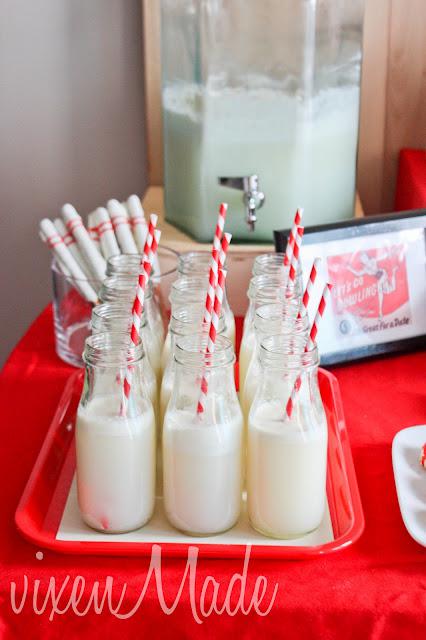 We wanted a 'white' colored drink or punch.  So this is what we chose.  A White Holiday Punch.  It was an ice cream punch.. which I will NEVER do again in jars.  Yeesh!  Things got a bit messy. But, honestly, it was delicious.  Everyone loved it!
The jars in the center were filled with yogurt covered raisins, sour cream soda bottles (we decided they kinda looked like bowling pins) and shelled peanuts.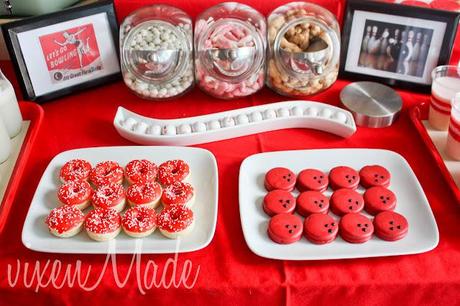 Chocolate covered oreos were another request by the birthday boy.  And I added a few dots to make them look like bowling balls... I mean.. why not!?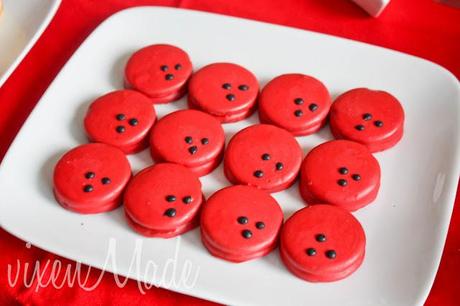 Bowling ball gumballs.  We literally sat at the bulk bin scooping out the red/white swirled gumballs while people gave us looks.  What we do for a party.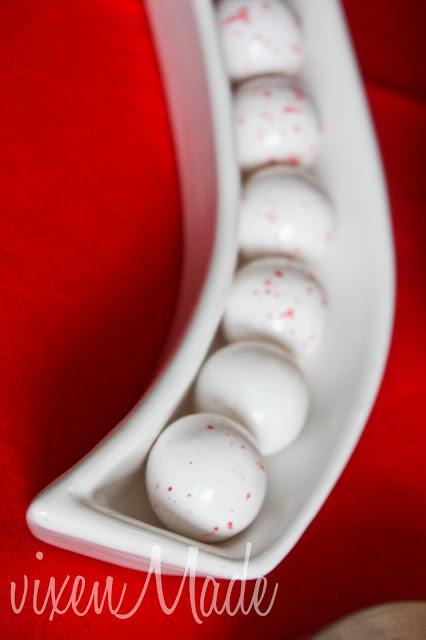 Jello.  Oh Jello.  How to I loathe thee! I do love Jello.  I do not love attempting to layer Jello.  It was my first try, and I probably should have had a few practice turns beforehand.  Here's the recipe nonetheless.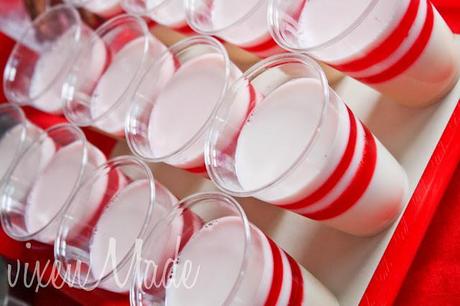 Sugar cookies.. to look like bowling balls.  Another request.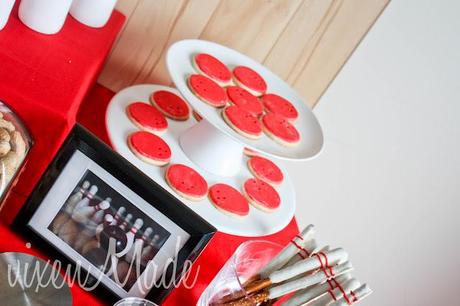 Chocolate dipped pretzels.  Decorated like bowling pins.  This was me being cheesy.  I love it though.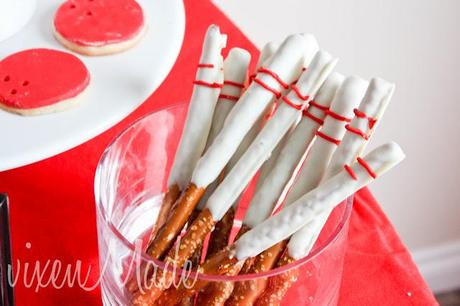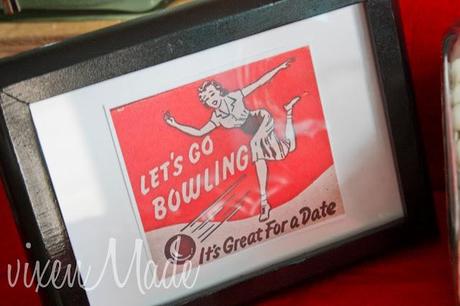 I looked everywhere for bowling pins; to buy, to rent, to make. I decided to paint my bottles white and add red electrical tape to create my 'pins'.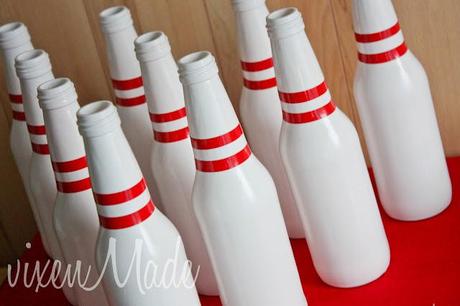 The hubby didn't want cake. He wanted donuts.  Yum!  Mini donuts.  I was game.  And I used my favorite recipe.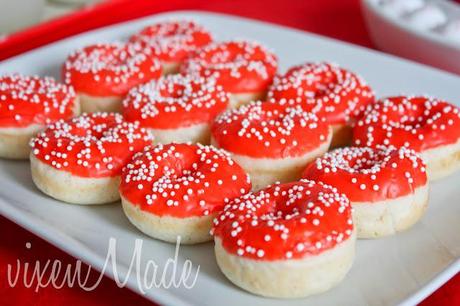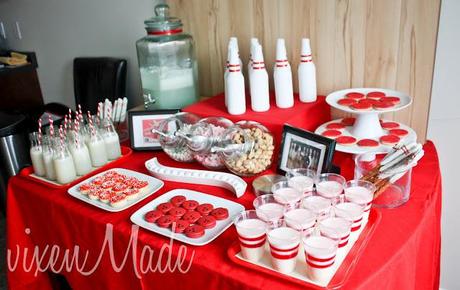 And how fun is our bowling alley backdrop?  That was all him; the birthday boy.  He thought of it and I was a little blown away.  Yay for creative husbands!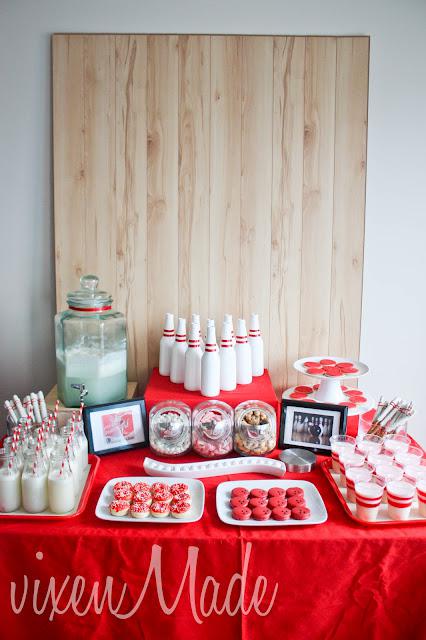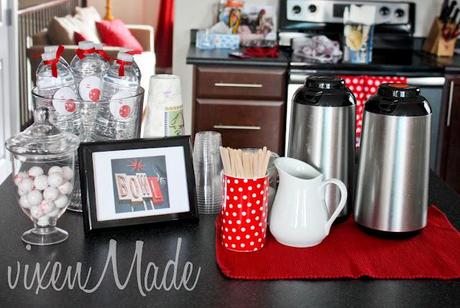 We found a bowling ball at a thrift store.. so, of course, I painted it red.  Then I added my white vase with the electrical tape lines.  And the retro bowling shoes I already had.  They were my grandma's.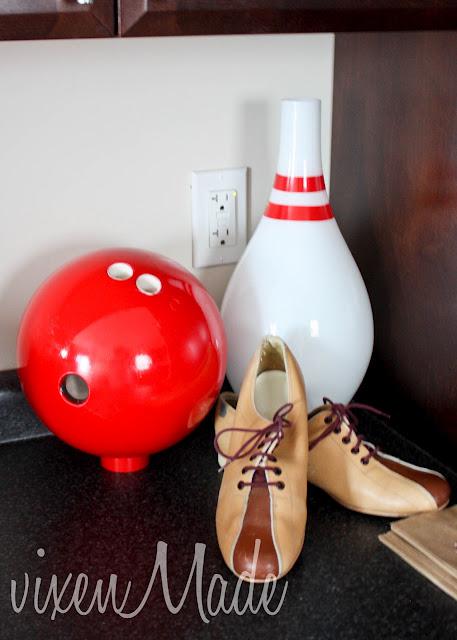 And since I like to rid of my candy at the end of the night.. some doggy bags.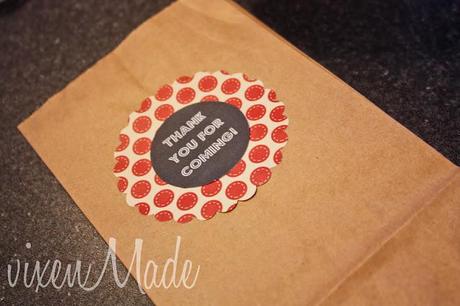 My husband's favorite.  Nachos and cheese!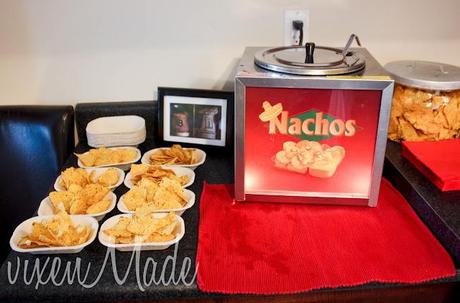 I created some sticker labels to attach to our water bottles.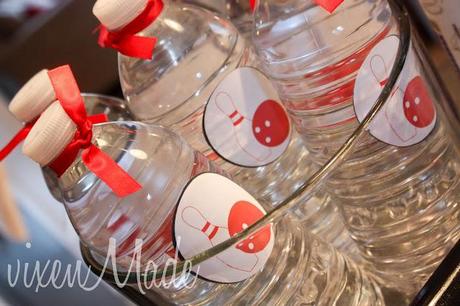 And finally, the invitation.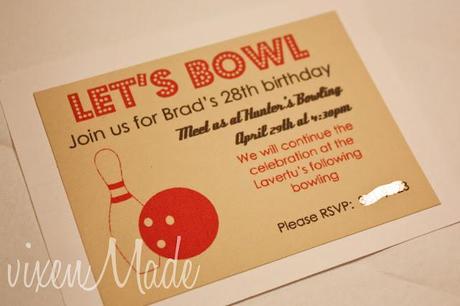 That's it!  Hope you liked it.
See you tomorrow!