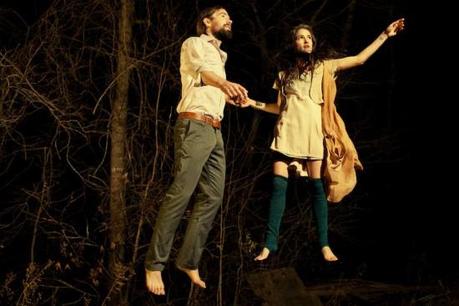 Tuck the Darkness In – Bowerbirds
Formed in 2006, Bowerbirds (@thebowerbirds) are an American folk band rooted in Raleigh, North Carolina. Once a trio, the group is now comprised of five members and led by Philip Moore (vocals, guitar) and Beth Tacular (vocals, accordion). The band, which includes Mark Paulson (vocals, multi-instrumentalist) and the addition of Yan Westerlund (drums) and Leah Gibson (vocals, synth, cello, keys), brings together the beautiful, almost haunting, sound of harmonies layered over strings, keys and drums. Their 2007 debut album, Hymns for a Dark Horse, was well received, and their 2009 album Upper Air, with its resonating track, "Northern Lights", brought them even more recognition within the indie rock genre.
The release of Bowerbirds' third album, The Clearing, follows a period of personal trial for band members Phillip Moore and Beth Tacular — a sentiment perfectly expressed through the first track "Tuck the Darkness In". While the two ended their relationship during the three year break following Upper Air's release, they managed to continue working together. Later on, though, Tacular became seriously ill, which led she and Moore to rekindle their relationship and helped them refocus their efforts to write and record new music with fellow bandmate and multi-instrumentalist Mark Paulson. Tacular, who is now healthy, shares the story behind their new music in a documentary, saying, "I didn't believe that I could ever fall out of love and fall back into love". Fortunately for us, the raw emotion and honest lyrics that Bowerbirds produced during that time culminated into a beautifully vulnerable indie folk album.
If you want to properly fall for Bowerbirds' latest, I suggest you watch the brief documentary below. The Clearing was partially recorded at longtime friend, and Bon Iver front man, Justin Vernon's studio in Wisconsin and partially recorded at a cabin that Moore and Tacular were simultaneously building in North Carolina. The documentary shows the couple as they explain how their moment of darkness gave this album a sense of gratitude and brought them into the clearing. Look for the album released by Dead Oceans on March 6th.