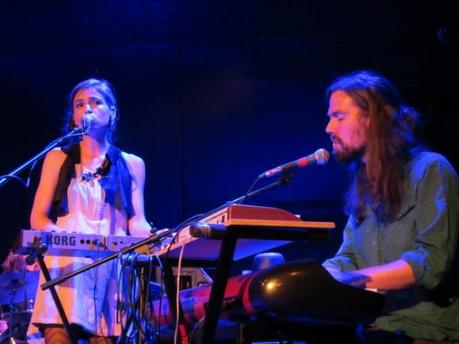 "This might as well be our last show 'cause we've always wanted to headline the Bowery [Ballroom]," Phil Moore, Bowerbirds (@thebowerbirds) lead singer, confessed on Friday. The band's soothing but dynamic folk songs are beginning to garner a good deal of attention, and the eagerness of their audience at Bowery was certainly a testament to that appeal. Their new album, The Clearing, was released less than a month ago, yet the crowd needed no invitation to sing along throughout the hour-long set, which featured many new tracks.
Named after a unique Australian bird (the 'Bowerbird'), this conglomeration of musicians (Phil Moore, Beth Tacular, Yan Westerlund, Mark Paulson, and Leah Gibson, plus a slew of others who sit in on occasion) has mastered a distinctive, deconstructed folk sound, blending haunting cello lines, sustained accordion notes and lustrous vocal harmonies. Percussion is used conscientiously and sparingly, and, as with their sound as a whole, the range found in restrained volumes is impressive. Although this album was written with a more auspicious tone than their last, there is still a hint of melancholy to the songs, with moments of revelry flashing throughout. The music is truly cinematic, especially in a live performance.
As their affable sound infers, these musicians have an endearing, slightly demure energy as performers. They seem reserved, though not detached, which makes them all the more intriguing.  There was little to no fanfare around the songs, all of which ended rather abruptly and lead into the next with very little interruption. On the few occasions that Moore did speak (and he was the only one who did), it was with a gentle modesty.
Despite their quiet nature on stage, Bowerbirds have been very candid about the struggles they've faced, proving that their steadfast resolve has clearly paid off. When they sing, "No, you're not alone.  Take your time with it.  All of it", it's more than just a lyric; it's likely a motto they've lived by.
Though their appearance is drastically different, the music of Dry The River (@drytheriver), one of the opening bands, is of a similar nature to the music of Bowerbirds.  These four men from London, replete with tattoos, long shaggy hair, even an AC/DC T-shirt, have a sound that is surprisingly serene. Tender vocal harmonies and a prominent violin line lent a softness even to the occasional head-banging moments.