New to little Indiana? Subscribe for free to my RSS feed. Thanks for stopping by!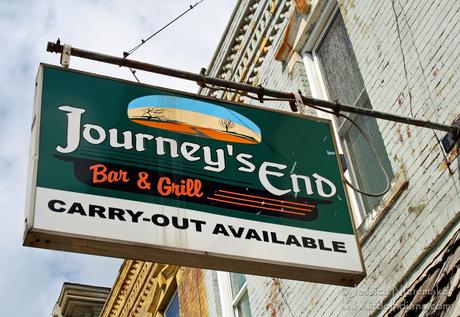 Bourbon, Indiana: Journey's End
Bourbon, Indiana has a couple of restaurants to choose from.
Journey's End Family Dining in Bourbon, Indiana
Bright and full of light, the Family Dining portion of Journey's End is brand new.
Attached to Journey's End Bar, what looked to be the local hangout, our section was so clean it was gleaming–as well as airy and spacious.
Plenty of seating, including a very long table for large groups, hubs and I picked a spot right next to the window.
Journey's End Menu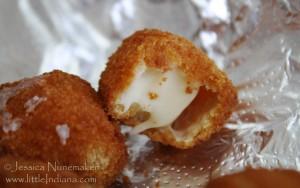 Bourbon,Indiana: Journeys End Dining Mozzarella Bites
There's so much good here that little Indiana and hubby took a bit of time ordering.
From appetizers to entrees, there's quite a selection! We had to start with the Mozzarella Bites.
From there, well, Beer Battered French Fries were my side of choice. But for the main course? The Grilled Pork Tenderloin!
Hubs decided on the Texas Chili Cheeseburger. This was a fork and knife type of meal! Very impressive.
Good Grub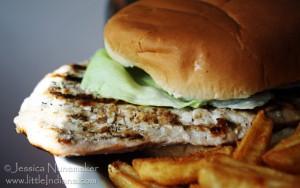 Bourbon, Indiana: Journey's End Pork Tenderloin
As you can see, that Grilled Pork Tenderloin was ginormous! Due to a kitchen mix-up, they gave me the large instead of the small. Wowza was it good!
I barely made a dent in it. I blame the Mozzarella Bites and Beer Battered Fries. Those fries? Are superb. Like, some of the best ever kind o good.
Those Beer Battered Fries are so wonderful that Hubs kept sneaking mine. Even though he had the biggest burger ever–he had a bite or two of my sandwich as well. It was just that delicious!
Hearty Appetite
Sure, Bourbon, Indiana is a very small Indiana town–but with a fantastic menu like this? It's so worth it!
See more Journey's End images and other pictures in Indiana on my Flickr photostream.
Journey's End
118 Main St
Bourbon, Indiana 46504
574.342.0123

View Larger Map
little Indiana: Where to Stay, Play, and Eat in Small Towns in Indiana. Discovering Indiana's best small towns! Now get little Indiana on your Kindle.
New! Offering affordable online advertising for your small Indiana business! little Indiana Businesses is the online presence that you've been looking for.