It's all bad news in China where the country's national spirit has had a bit of a jolt. I'm talking here about their famous fiery liquor, Maotai, which has undergone a 20 percent price hike thanks to tight supply and rising raw material costs.
Maotai is made in a city of the same name in a remote part of Guizhou province in the southwest. Its core ingredients are mountain water and sorghum. The sorghum is fermented and distilled at the Kweichow Moutai Company Limited. Stepping up production won't help as the liquor needs a year to ferment and four more to age.
A bottle of Maotai – or Moutai  (the town's pre-revolutionary name -  now exceeds 1000 yuan since the price went up on January 1. That's about $AUD151 Many people nationwide have blamed the growing number of official banquets for the increase, as the liquor is most often enjoyed at official dinners.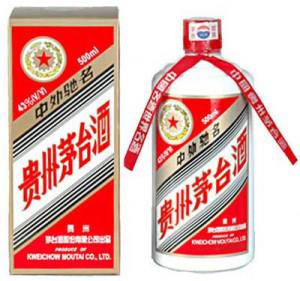 I first encountered Maotai at banquets at the Chinese Embassy in Wellington during the 80s. These were splendid affairs where the food was a real eye-opener for those of us whose only prior exposure to Chinese food was cabbage and chicken skin or batter dipped nuggets of pork doused in a fairly violent pinky-red sweet and sour syrup that were staples at Chinese takeaway outlets.
Our hosts were genial and these gatherings were always very cordial. Along the way the Maotai bottles would be produced and the liquor poured into glasses a little larger than sherry glasses. The protocol was to raise your glass, say "bottoms up" and down the lot.
The first taste is something of a surprise. Maotai has been eloquently described as rubbing alcohol, diesel fuel, lighter fluid, rocket fuel, stinky tofu, vodka mixed with soy sauce.
I reckon it has Vegemite undertones. What comes through clearly is the alcohol, which I believe tops out at round 53 per cent. If that first taste doesn't make you an enemy for life, Maotai kind of grows on you. I used to do the "Oh, silly me" woman thing and sip on it rather than gulp it down in one giant swig, but I acquired a taste for it and wasn't at all unhappy when we were given a bottle of it one Christmas. An interesting addition to the après dinner liqueur offerings.
A Maotai or two loosened tongue and made for some intriguing exchanges with younger embassy staff – often young married men whose wives and children were still in China. I asked them how many glasses of Maotai they could drink. They were coy about actual numbers but it was apparently quite a few. And I remember them saying they didn't get a hangover. Must be a genetic thing.
Sometimes it seemed like they'd been storing up questions to ask local Kiwis over dinner. At the time New Zealand's Prime Minister was the inimitable David Lange. He had a very colourful turns of phrase and analogies that must have got severely lost in translation when transmitted back to China. One night, almost conspiratorially, one of the young men asked us: "Please, can you explain, what is 'tooth fairy'?" clearly prompted by a reference in a recent Lange speech.
They had a great laugh when the mystery was unravelled.
The inventive  embassy kitchen staff came up with another use for Maotai – in a Sino-Kiwi dessert. They took a champagne coupe and in it upended an individual tub of commercially made strawberry ice cream. When it arrived at the table we were invited to tip a glass of the liquor over the top. Quite an interesting combination. Not one I ever tried at home, however…
Maybe I should have kept our bottle of Maotai. because vintage Maotai has also been in the news. Xinhua reports that 110 bottles of bonded Maotai, sold for a total of 5.22 million yuan ($AUD788,397 at a liquor auction held in Shanghai at the end of last month. That's an average of more than $AUD7100.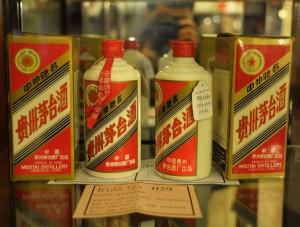 Vintage Maotai at the Shanghai auction
The auctioned items were mostly brewed in the 1970s and 1980s and have been collected by individuals. The costliest item at the auction was a bottle of Five Star Maotai, bottled in 1955, that was listed for 1.26 million yuan ($AUD191,034). However, the price was set too high to attract any bidders, an auction representative said.
Maotai has been considered the country's top brand and a symbol of status for decades and bonded Maotai is regarded by the country's booming middle class as the next hot auction items after antiques and art pieces.
Of course, in the face of rising prices an equally hot item is counterfeit Maotai/Moutai and counterfeiters are savouring a surge in business.
Despite a national campaign against fake Moutai, the authorities seem to be losing the battle against counterfeiters, who have perfected the look and taste of the real thing, the New York Times reports. "All across town, stores sell Moutai's distinctive white bottle, and chemical vendors shamelessly hawk additives that can turn run-of-the-mill homemade spirits into liquid gold."