I don't often (or, come to think of it, ever) do Splurge vs. Steal posts. When I read them I often find myself thinking, "But it's about the quality!" or "That splurge isn't something I'd spend that much on anyway!" or, most often, "But that steal is a complete and utter KNOCK OFF! It should be illegal!"
So I'm a little surprised at myself for doing a just that sort of piece! This one was just too good not to share!
The Splurge?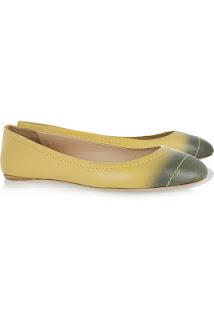 Reed Krakoff's Ombre-effect leather ballet flats ($495).
  Now, I'm not a huge fan of the yellow and army green combo. I actually prefer it in
the nude/black version
but for the purposes of this Splurge/Steal comparison I'm going with the yellow. They are quite cheery and would look perfect with a white sundress.
The Steal: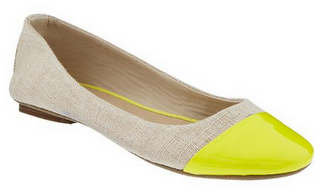 Old Navy's cap toe canvas ballet flats ($22.94).  OK, so it isn't an exact match but you already know that knock offs bother me. I like the idea that you can take whats best from the designer version (in this case the cap toe ballet style and trendy color) and have something similar for an incredible price. I mean, those Krakoff's are $500 for Gods sake! For me, thats an insane amount to spend on an item that might only last me one season before I've moved onto the next thing. No, the Old Navy quality can't compare but at $23 I can wear a trend like neon yellow all summer and not feel guilty about tossing them in October.