Who says that stockings have to be filled with candy? I'd much rather have Santa stuff my stocking with one (or all) of these stylish gifts!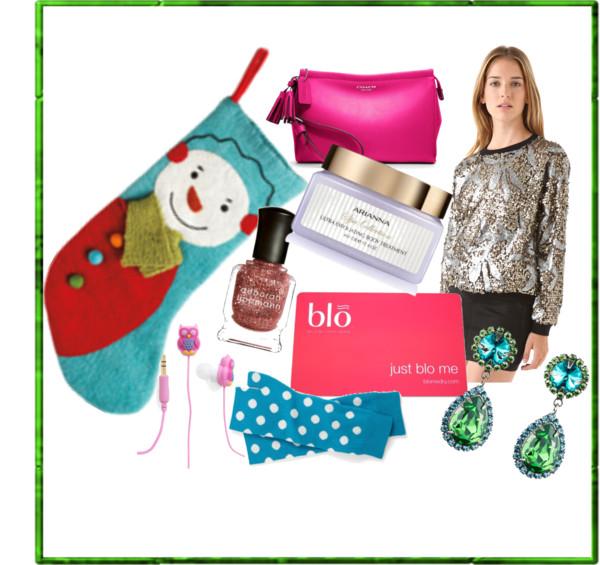 From Top: Coach Legacy Leather Large Wristlet, April/May Noa Sequin Sweatshirt, DANNIJO Monaco Earrings, Kate Spade Fingerless Gloves, Hoot & Howl Ear buds, Deborah Lippmann Some Enchanted Evening Nail Polish, Arianna Spa Collection Ultra Exfoliating Body Treatment, BLO Gift Card
Nail polish, gloves and ear buds are probably Stocking staples but why not add some glitz with DANNIJO's Monaco earrings? They come in greens, black and white, and pinks so Santa can find the perfect pair for every woman.
Coach's Legacy line has restored a level of fashion cred to the suburban favorite, and it's hard not to lust after their soft leather confections like the Large Leather Wristlet.
Don't they look better than peppermint candy?
For the beauty addicted on your list, rush over to Arianna's new location on Tremont St to pick up skincare must-haves like their Ultra Exfoliating Body Treatment and Ultra Rich Hydrating Body Butter.  The modern woman loves a quick blowout so get her a gift card to BLO Dry Bar so she can look beautiful on the go! With locations all over North America (not to mention right in the South End!) she'll be able to take advantage wherever her travels lead her!
I hope you're closer to being finished with your holiday shopping than I am!