The clock's ticking down to
Christmas
and I know how hard it is to shop for your stylish best friend (or even your annoying little sister) so I put together this handy dandy shopping guide to give you a little push in the right direction!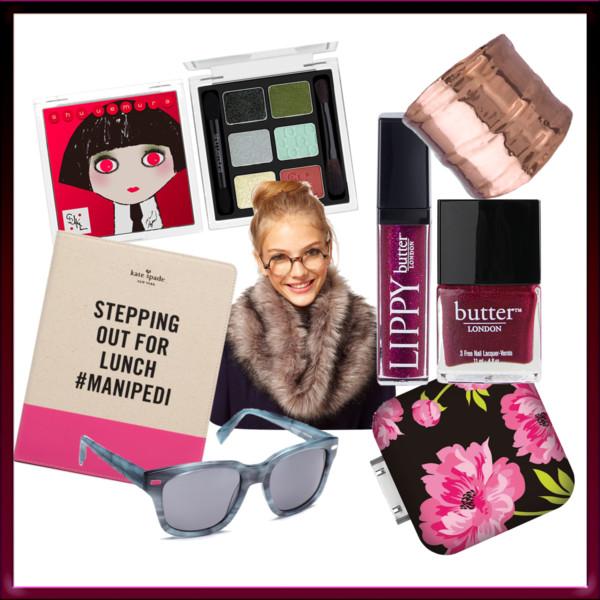 From Left: Karl Lagerfeld for Shu Uemura Eye & Cheek Palette, Karen London Alexandria Ring, Butter London Fiddlesticks Set, Triple C Design's Midnight Blossom PowerMate Plus External Battery for iPhone, Warby Parker Everett Sunglasses, Kate Spade iPad Case, ASOS Faux Fur Snood
Your In-The-Know coworker will appreciate Karl Lagerfeld's Limited Edition palette with Shu Uemura while your best friend will love the rose gold Alexandria ring from Karen London.  You know how your sister's phone is always out of juice? Well, with Triple C's portable iPhone Charger, you'll always be able to reach her!
Of course, I'd almost always rather grab a coffee and chat with my besties so if you're running low on funds why not treat her with some spa treatments, a Ryan Gosling flick, and some cocktails in the comfort of your own living room?
Try out this yummy (and Bostonista approved)
Candy Cane Cooler from Food Network
for entertaining the girls this holiday season!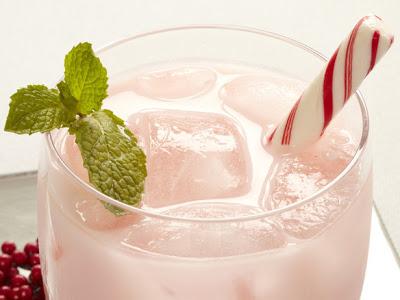 Ingredients
2 cups fresh mint leaves, de-stemmed
1 bottle quality vodka
Directions
Thoroughly wash mint leaves and place in a decanter or jar. Empty vodka into container and muddle slightly to release the essential oils. Store in a cool, dark place for at least 3 days - longer if you want a stronger taste.
For cocktail:
1 tbs. crushed candy cane or peppermint candy
1 1/2 oz. mint-infused vodka
1/2 oz. B&B (Benedictine and brandy)
1/2 oz. half-and-half
Ice
Peppermint stick
Mint sprig for garnish
Place crushed candy cane bits into pint glass. Muddle the candy cane slightly, breaking up the bigger pieces. Do not over-muddle into a powder. Add vodka, brandy and half-and-half and stir. Pour into a shaker with ice. Shake lightly to chill and strain into old-fashioned glass full of ice. Add a peppermint stick and stir. Garnish with a mint sprig.
(Thanks to Food Network for the recipe and delicious looking pic!)