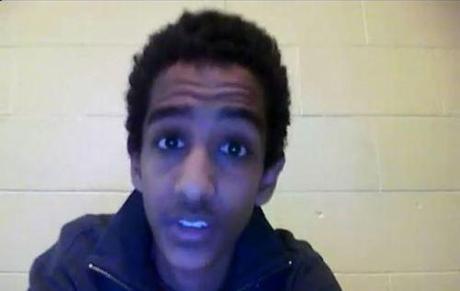 Boston Herald: An ex-classmate of accused marathon bomber Dzhokhar Tsarnaev is claiming he was too stoned in the days after the deadly attack to comprehend just what he was getting into.
"This is a case about a kid high out of his mind, saying, 'I don't remember.' They're not saying he destroyed evidence. They're not saying he touched evidence. He committed no crime," attorney Derege Demissie said in his opening statement today in the trial of Robel Phillipos.
Assistant U.S. Attorneys John Capin and B. Stephanie Siegmann, meanwhile, stunned court watchers when, on the first day of testimony in the Cambridge Rindge and Latin graduate's trial, they told jurors they will hear from Azamat Tazhayakov, found guilty in July of obstruction of justice charges for helping remove a backpack stuffed with fireworks and Vaseline from Tsarnaev's University of Massachusetts Dartmouth dorm room the evening of April 18, 2013, three days after the Copley Square terrorist attack that killed three and injured more than 260 others.
Tazhayakov, 20, faces up to 20 years in federal prison when he's sentenced Nov. 19; however, his cooperation at the expense of his friend could persuade prosecutors to show him some mercy when they make their sentencing recommendation.
A third buddy, Dias Kadyrbayev, 20, pleaded guilty in August to tossing the backpack and its contents in a dumpster. As part of a plea agreement, prosecutors will ask that he spend no more than seven years behind bars when he's sentenced Nov. 18. Upon his release, Kadyrbayev will be deported home to Kazakhstan.
Phillipos, 20, the son of a social worker for the state Department of Transitional Assistance, and who has been under house arrest in Cambridge for more than a year, had about 30 friends and family members from as far away as California packing U.S. District Judge Douglas P. Woodlock's courtroom to support him. Among them, Judith Glaubman, his former teacher at the King Open Middle School.
"I'm here to support him and his family during this difficult time," Glaubman said outside the Seaport District courthouse.
Capin told the jury it took investigators five interviews with Phillipos before he cracked and confessed to being in Tsarnaev's dorm room the night of April 18, 2013, immediately after the FBI first went public with photographs of the Chechen national and his older brother Tamerlan as their bombing suspects. When Kadyrbayev asked what he should do about the backpack, Capin said Phillipos told him, "Do what you have to do."
Phillipos hung out with Tsarnaev earlier that same day, Capin said, and later "bragged about it being kind of fun" in incriminating text messages. One of them crowed, "I was the last person to see the terrorist alive."
Dwight Schwader, a special agent for the U.S. Department of Transportation Office of Inspector General, recalled on the stand he even suggested to Phillipos that he was the "little bitch" of Tsarnaev, Kadyrbayev and Tazhayakov to try and goad him into talking, but it didn't work. Phillipos, he said, maintained he'd not seen Tsarnaev in 2 1/2 months.
"I said maybe he was a little bitch who waited outside and served as a lookout. He said he wasn't a little bitch," Schwader said. "He seemed to lack any emotion for the severity of the events."
After their initial meeting in the parking lot of a Price Chopper store in Worcester the night of April 19, 2013, when Tsarnaev was still at-large, Schwader said the battery quit on the car Phillipos arrived in with two friends and he boldly asked the feds to give them a jump. They did, Schwader said.
Demissie removed a gift box from a bag wrapped in silver paper and topped with a silver bow, telling jurors it was emblematic of the prosection's "neatly packaged case, decorated with the tragedy of the Boston Marathon bombing. But when you open the case, unwrap it, open the box, what you will find is nothing."
Phillipos, the lawyer insisted, "spent the entire day of April 18 smoking marijuana, highly intoxicated." And if ultimately he did admit anything to the feds, Demissie said it was only because, "He was a scared, intimidated, frightened 19-year-old. They supplied the facts to him. He repeated what he was told."
This kids, is your brain on drugs.
DCG