Historical background: Initially called Constantinople, part of the Byzantine Empire, in 1453 it fell under the rule of the Ottoman Empire.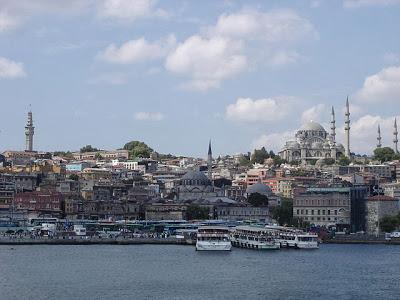 Main Attractions
Saint Sophia or Hagia Sophia
Once Church, now four additional minarets are added to the construction. After you say goodbye to the 30 liras and explore it from inside you will be astonished to see that at the same place coexist Christian frescos on the top and walls covered with Arabic symbols. Real melting pot of cultures, right? Oh, yes there was one place (finger hole) where you can place your thumb and try to do a full circle with your palm. If you manage to do it without taking out the finger your wish will come true.                                          
The Blue (Sultan Ahmed) Mosque
In the
Blue Mosque
there is a special dressing code. Shorts and miniskirts are not allowed. Apart from this women should cover themselves with the head coverings available at the entrance. Due to the fact that it is a fully active mosque, avoid arriving during the five daily prayers.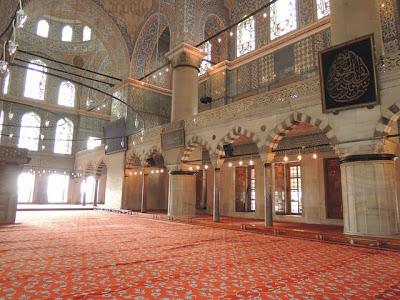 Topkapi palace
In one particular room you will encounter a young Muslim reading the sacred texts of Quran without making any pauses whatsoever. If my memory serves me well the scene was where the footprint of Mohammad and other
sacred relics
were exhibited. In this museum you can expand your knowledge about the rulers of the Ottoman Empire and their habits and everyday life.
Basilica Cistern (Yerebatan sarayi)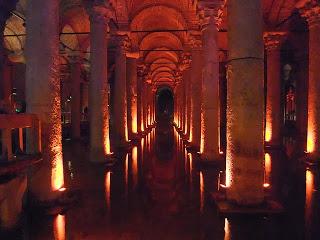 One particular site – the Basilica Cistern (Yerebatan sarayi) tends to be overlooked by many tourists rushing to buy stuff at Kapalcarsi. The place is located close to Sultanahmet square and is a home of Ionic, Doric and Corinthian style columns. Imagine how you descend into the underworld to discover the artesian art that breathe life into
Medusa
. Odd sounds, water splashes and echoing steps can convince you have ventured in the Hades kingdom. Exhilarating experience for the curious tourists.
Egyptian obelisk
was brought to Istanbul by an unknown Roman Emperor. It poses the question about the technology used to cut precisely these hieroglyphs. Who knows, maybe it was done by Ancient Aliens?
What I found peculiar is that the streets were cleaned with soap, a bit strong smell that you may find excessive.
Shopping
Vendors
are aggressive and may grab your hand and drag you to their shop if you are not firm enough.
Bargaining
is their second nature so show all your talent. One of my strategies is to pretend you are not interested in the object at all. If you want some tips on how to haggle check out
this page
.
Books
– nice and sleek covers but in my opinion overpriced
Kapali Carsi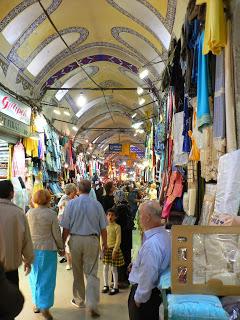 Watch out for nice deals, nearby there are some good quality
leather jackets
(no guarantee, just my impression) for reasonable price. You would be amazed at the speed with which the polyglot sellers are switching from Spanish to Russian to whatever in order to deduce your native language.
Things to do and see
Nargile smoking
- You may have seen old men in a cafeteria all passing an odd pipe. It is not what you think – it is not a drug, it is a type of Turkish tobacco. That is a typical for the Ottoman Empire and has been around for centuries. Multiple flavours are available: apple, banana, coffee, orange...
Dervishes show
– those devotees perform quiet intriguing dance. They whirl around an imaginary axis in pursuit of religious ecstasy.
Galata Bridge
- I missed the ferry trip but take my advice and do it. Many locals fish on the bridge and you'd better be quiet or you might scare the catch.
I got really envious when I saw in the
Oriental Part
how the rich had their own houses right on the beach. A dock adjacent to the property and a small boat waiting for its master. Commuting can be peaceful!
Nice
parks
full of young teenagers going out for a date or to relax.
Oh, I completely forgot about the
Turkish delicacies
and drinks. I guess they will be on a different post.