I haven't traveled to many places, actually any besides B&H, where the religiosity in the air makes me slightly, um, uneasy. In one of my CCD classes growing up there was this girl named Chelsea whose dad was serving in Kosovo. At the time, the issues in the Balkans seemed a million miles away but after spending some time in B&H those issues were right there, practically touchable.
The first stop was a Catholic pilgrimage site, Međugorje. It should be noted that the fact that this place has become a pilgrimage site is totally 100% not approved of by the Vatican. The sighting of the Virgin Mary in the hills by six children, which gave this place its claim to fame, has not made it through the stringent rules for verification that the Vatican has, and a priest has even been 'de-frocked' for continuing to promote the place. In the words of our tour guide "this was one of the poorest places in Bosnia and Herzegovina before the sighting of the Virgin Mary, now the town is very, very commercial and pretty much makes all of its money from it being a pilgrimage site." We were there on a Sunday and Mass was so full that it overflowed outside where people stood along the walls to hear from the speaker system set up outside. I didn't stick around long enough to see how communion worked.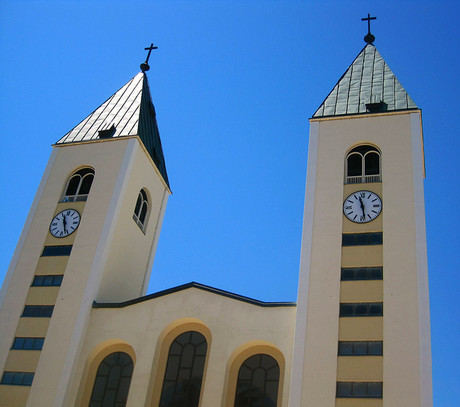 I'm not gonna lie, I felt bad taking a photo during Mass, but I'm Catholic so it's allowed right?

After Međugorje we headed to Mostar which was subjected to an 18-month siege between '92 and '93 during the breakup of Yugoslavia. Our sexy Croatian tour guide Olga promptly informed us that she would talk about the history of the town of Mostar before we got off the bus, but that once we left the Catholic church parking lot and ventured in the the Old City, which is the Muslim part, she wouldn't talk about it. Apparently she had run into issues in the past with Turkish and other Muslim tourists.
Mostar was one of the hottest places I've ever been so I didn't take many photos due to being so uncomfortable in the heat. The main attraction is the bridge which was rebuilt, after being destroyed in the siege, with funds from Prince Charles.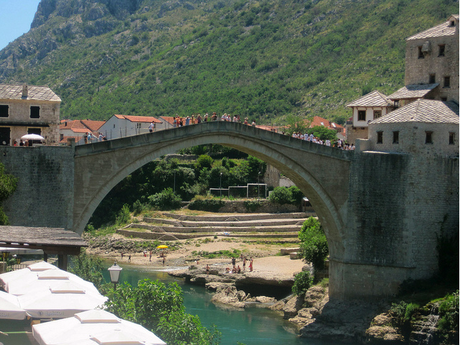 Overall, Bosnia & Herzegovina left me wanting to find out more about the history of the region, specifically the breakup of Yugoslavia. Croatia is almost totally Catholic but religion, at least in Dubrovnik and the other places we went, does not seem to be as touchy a subject as in B&H which continues to be fragmented between Muslims, Catholics, and Orthodox no doubt due to the genocide that occurred.
Once back in Croatia, we stopped at an organic fruit stand which was probably my favorite part of the whole trip. We were talking about how awesome it would be to come back to Croatia and W.O.O.F. at a place like this.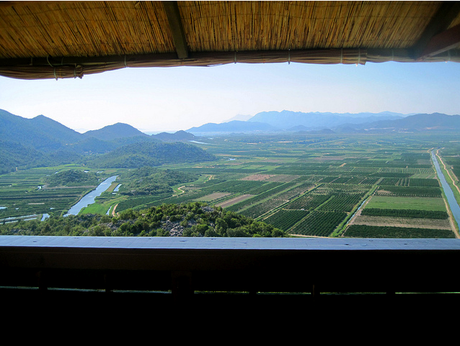 Tidbits on the Balkans
-Croatia, Montenegro, B&H, Serbia, and Kosovo (Macedonia and Slovenia, the other two countries that helped make up the former Yugoslavia excluded) all speak the same language but with various dialects/alphabets. It's kind of like English apparently where Canadians, Americans, Aussies, etc. all have differing dialects, words choices, and spelling.
-According to Olga, apart from the whole competing nationalisms issue a lot of people really loved Yugoslavia because it was communist and had all those nifty communist benefits (healthcare anyone?).
-Croatians view the people in B&H as overly religious: "My grandmother lived through three wars, my mother through two, and myself through one. Something has to change here to transform people's hatreds."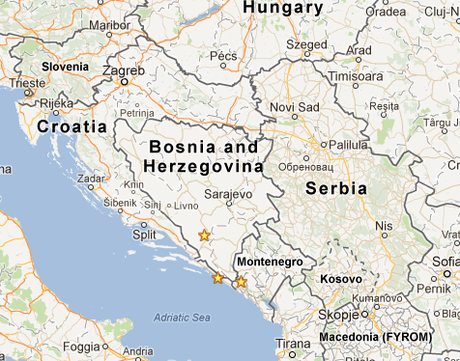 So, that was our rather quick trip through some of the Balkans: Croatia, Montenegro, and Bosnia and Herzegovina. To be honest, I'm dying to go back. I'd love to explore the capital of Montenegro along with Croatia's capital Zagreb, Slovenia, and Bulgaria. Another trip in the future hopefully!
Amy x