Heat Systems, developed by Bosch Bosch 5000 W wall-mounted condensing boilers condense, 65 and 98 kW capacity and high efficiency advanced technology offers a combination of options. For multi-family dwellings and commercial buildings, high-performance, durable and efficient options condense with a 5000 W boilers, and also draws attention to yield up to 110 percent.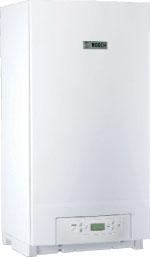 BOSCH Boilers Condense
Bosch, the installation of boilers to provide rapid, reaching a total power of 392 kW four-cascade solution offers. The heating capacity of 30 Watts per square meter this is, if the model is 13 thousand square meters condense 5000 W means that can provide heating and hot water. Should only produce as much energy and maintenance costs that reduce the risk of wear due to the Bosch 5000 W boilers condense, compact size and accessibility of all parts from front property offers the opportunity for easy assembly and maintenance.
Another important feature of the new boilers have the perfect co-ordination via the components, solar thermal systems in multi-digit residential heating systems to be integrated efficiently in the form of providing for itself.