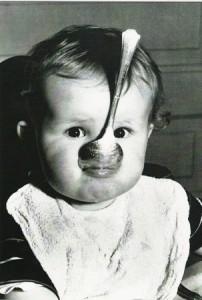 The Candidate
I was not bornWith a silver spoonHe saidEyes glinting Chin juttingBrow furrowed  A creeping smileSlithering acrossHis politicalFace.
We lived in aBasement apartmentLike regular folksShe saidStepping out of a 60s sitcomAll fluffAnd full of laceAs is rightFor a womanWho knowsHer place.
They saidWe had to liveOn returns From investmentsIt was hardWe even gotRegular haircutsAnd ate at McDonaldsUnless daddy and mommyTook us outOr gave us moneyFor the rent.
We know allAbout youPoor folksStruggling to Pay the billsAnd feed the kidsWith college aheadWe suggest youGet money fromYour folks andLive in a tent.
And when youGet oldBecome a MormonMormons take careOf one anotherBy piling up moneyAnd stowing itAway for aRainy daySo MormonsDon't needNo government.
They do it all themselves!
Image from here.