How many times has it happened with you that you really like something or want to try something and you just let it go because of the price. Well it happens a lot with me. I usually end up spending so much that when I really want something I am broke.
Now that is when I stumbled on born pretty store. It is an Chinese website. The first time I visited this site I was so awestruck with the prices they offered that I ended up browsing for 4 hours. They have a huge variety of items. Some of them were so new to me that I couldn't even imagine them ever.
They have a huge collection of nail art material. I mean it's literally a Disneyland for nail art lovers. And everything is at so low price that you can get a lot of stuff for a very less price.
They also have awesome jewelry, cosmetics, apparels and a lot of stuff. It's a long long list to mention. You can visit there site from here
I got a makeup kit from them. Lately I am into makeup and I really did not have a consolidated vanity box. I wanted to miss and match a lot of different stuff and what is best other than a makeup kit for that.
The kit comes with a set of blusher, eyeshadows, lipcolor and powder foundation. Full package you can say.
The packaging was nicely done and nothing is broken. The kit is brand new with plastics and color codes intact. Untouched you can say. 

Package Contents:
39 Colors Eyeshadow Blush Pro Makeup Palette Cosmetic
Layer 1: 24 colors of eyeshadow
Layer 2: 8 colors of lipstick+brush+Powder Puff
Layer 3: 4 colors of blusher+ 3 colors of Powder Foundation(2 dry+1 wet)
Feature:
100% brand new
Powder base
Black glossy case
Protector on the surface.
Delicate Package
Item will packed with BOX and protected bubble
Layer 1: 24 colors of eyeshadow
The eye shadows are quiet pigmented. I don't usually sport dark eyeshadows but these are well pigmented and stay on me for a long amount of time. I have oily lids so I prefer using primer below them.
Layer 2: 8 colors of lipstick+ brush+ Powder Puff
My favorite layer. The lipsticks are good. Most of them are pink based. One is mauve and other is brown. I like them. They are smooth and creamy. Non transferrable after blotting. I did not like the mauve one but rest are really good. They don't settle in fine lines. Specially the baby pink gives a very natural look which I completely adore.
The brush is something which is good to use. I personally have my own set of brushes which I prefer using.
Layer 3: 4 colors of blusher+ 3 colors of Powder Foundation(2 dry+1 wet)
The blushers are cream blushes and not powder ones. I like cream blushes. They are easy to blend and they stay for long time. The colors given here are all pink based. They will go well for medium to fair toned women. The texture is good and it blends in easily.
The foundations are also cream based. They give a full finish and completed look to the face. I haven't tried the wet ones yet but the dry ones are really well pigmented and don't give any breakouts.
Overall I loved the packaging and delivery. The customer care is very nice and you can reach out to them in case of any issues or product enquiry. The pallete which I got comes for 17$ and you can purchase it here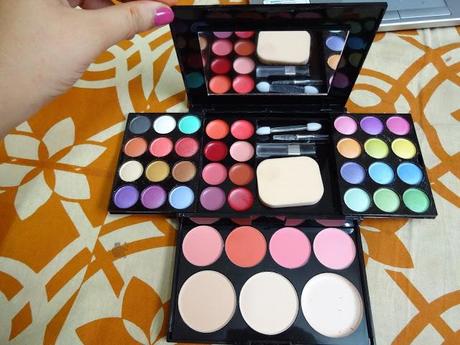 I am looking forward to do a new makeup look using the palette only. Keep up for the upcoming post.