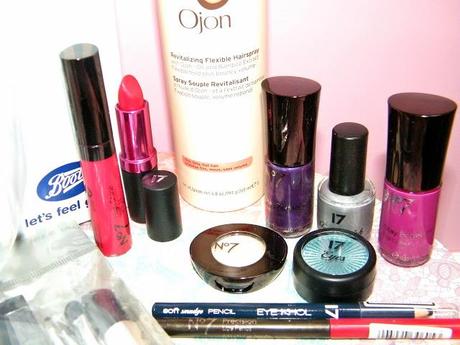 A couple of weeks ago there was an hour long Twitter Party called #bootsgiveitago which was hosted by some lovely bloggers and a SEVENTEEN Cosmetic's Make-up Artist. The rules were simple; All you had to do was hashtag 'bootsgiveitago' and then share your top makeup tips for lips and eyes for the upcoming Spring. The hosts then picked a winner every 10 minutes (that's six winners!) and each were treated with a lovely Goody Bag and guess what? I won! I was completely gob smacked as I really didn't expect to win, I was just in it to get some tips from other bloggers and share my own. This is the very first beauty competition that I've actually won, like, ever! Here's what I got inside my goody bag...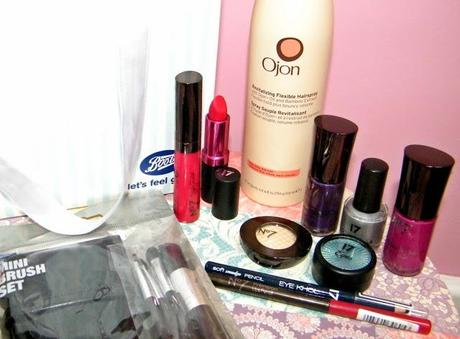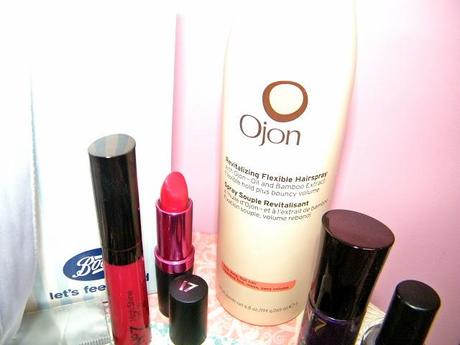 Boots - Mini Brush SetOjon - Revitalising Flexible Hairspray17 - Eye Shadow in 'Viva Diva' // Eye Kohl in 'Navy' // Lasting Fix Lipstick in 'Showbiz' // Fast Finish Nail Polish in 'Moonstruck'.No7 - Stay Perfect Eye Shadow in 'Starry Lights' // Precision Lips Pencil in 'Fire' // High Shine Lipgloss in 'Almost Red' // Stay Perfect Nail Colours in 'Foxglove' and 'Vivid Violet'
Amazing ey?! My favourites so far are the 17 Lipstick, as I wore it in this recent outfit post here, along with the No7 Lip Pencil which I've been wearing under my Russian Red and the Ojon Hairspray, which smells absolutely divine. So a big thank you and cuddle to the girls over at @perfectpolished, @NatalyaFGM and @vanesaguallar along with of course, Boots, for hosting the Twitter Party and for these lovely goodies! They will definitely be going to a good home.Do you already own any of these products? Let me know, thanks for reading!Megan xxx
Facebook  - Twitter - Instagram - Bloglovin


*These products were sent to me free of charge due to winning the competition.