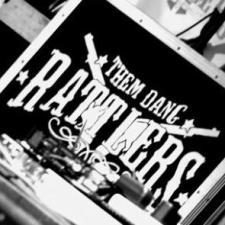 Boots and Hearts 2015 is still a few months away, but we know that the fans are getting excited – because we're excited.
So, here we are with another artist preview to get everyone ready to party at Burl's Creek Event Park, August 6 – 9.
Meet Them Dang Rattlers, a 6 piece country music outfit from London, ON who are getting ready to make their B&H debut this summer. These boys like to play, drink, sing, entertain, and generally just have a good time. We are sure that they're going to put on a fun set when they take the stage this summer with a set of original tunes and perhaps a cover or 2 as well.
Don't know Them Dang Rattlers yet? Check out the Q&A and start counting down to August.
Q. We don't really know London, ON as a country music hotbed… are we missing out on something, or did you guys just decide that this is what you were going to do and made it happen?

A. London is not so much a hotbed for country acts, but there is a huge fan base for country in and around the city. Bud Gardens and London Music Hall bring in huge country artists all the time, there's 2 country radio stations here, and the surrounding area has proven to be one of Canada's most enthusiastic groups of country fans. All of us are proud Londoners now, and this is what we like to do, so here we are writing country tunes in London, ON!

Q. Give us some background insight… who are the artists that influence you as a band in country, rock, or any other genre?

A. We all grew up in small towns with our parents listening to country and classic rock, so it's kinda been infused into our lives from as far ago as we can remember.

Q. Your bio says to watch out because you'll get a knuckle sandwich or a kiss on the cheek! Who in the band is more likely to load up with a fist, and who's leaning in for a kiss?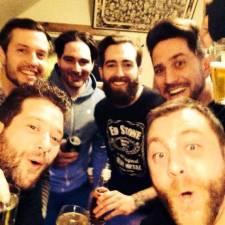 A. Haha well that's a great question, especially if any babes are cautious about who to approach.
Barry – Kiss.
Ryan – He'll flip ya the bird.
Nick – Open faced Knuckle sandy.
Blair – Just give him a beer and he's fine.
Josh – Kiss.
Steve – Who's Steve?

Q. Boots and Hearts has grown into a huge festival with more than 30,000 country music fans on site last year. How are you preparing yourselves for that kind of crowd that's in full party mode for 3 days straight?

A. Well, some of us used to play in metal bands and frequent the festivals all the time, so we know what's up. It's been a while though, so we hope we can still fit into our party pants!

Q. Let's say we're able to meet up with you guys at the bar after a show. And let's say that we're buying the drinks, who's ordering what?

A. This that and a couple beers. OR EVERYTHING IN SIGHT.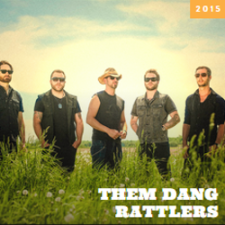 Q. Dream Time: If you were able to book a tour with any acts you wanted, what 2 or 3 other names would be see on the tickets?
A. Ohhh let's say Eric Church, Brad Paisley, and The Cadillac Three.
Q. Last one, in 50 words or less, what can we expect from Them Dang Rattlers when you take the stage at Boots and Hearts this August?
A. We're a group of friends, we have fun, we drink together, eat together, sleep together – and that cohesiveness comes through on stage. We have a blast up there and try our best to let everyone know that when we play live. Come check out our set and have a good time with us!
Thanks to the boys for playing along, it sounds like we might have to buy a round soon!
Find Them Dang Rattlers at these fine locations online…
Facebook: Them Dang Rattlers
Twitter: @tdrattlers
Instagram: @themdangrattlers