I caught up with Birds of Bellwoods last week prior to their NXNE show at The Cameron House. We talked about the Boots and Hearts Emerging Artist Showcase, what's coming up for the band, influences and lots more.
Birds of Bellwoods: First cool thing to talk about is the opportunities and the things we have coming up. So, we've got NXNE tonight and then we're playing The Great Heart Festival. Which is an awesome festival. It's in Trinity Bellwoods, it's an acoustic festival and it's on June 21st.
After that we're taking a little bit of time and we're coming to Boots and Hearts, which we're really excited about. It's not normally an audience we get to communicate with. We're very excited and a little terrified to see how we'll be received. We're not traditional country or even modern country.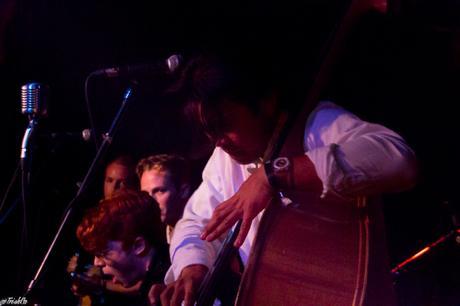 TC: 
Have you heard any of the other emerging artists?
Birds of Bellwoods: We have, and we seem to be a little bit of a red herring, maybe that'll work in our favour. We hope it will. We're hoping if we play good, honest music that people will enjoy it.
TC: What's the exciting news?
Birds of Bellwoods: The really exciting thing we have coming up is… we recently got offered a spot at TURF, which is the Toronto Urban Roots Festival. We'll be playing with some of our favorite bands like Shakey Graves and Punch Brothers. We're actually on the same day as Punch Brothers. And Pixies, which is 14 year old Adrian's dream.
We'll be doing our EP release as part of a TURF Showcase and that's going to be happening on August 13th at Lee's Palace. We'll be bringing along a drummer and a violinist, which promises to fill out the sound. The night after that, we're doing Gladstone Hotel with Groenland. And so that's cool and then Jasper Folk Music Festival is coming up in September. So there's a lot of cool stuff coming up and our EP The Fifth, which is our first studio EP, we're dropping that in August.
TC:  I wanted to ask about the song you choose to enter the Boots and Hearts Showcase. Why that one?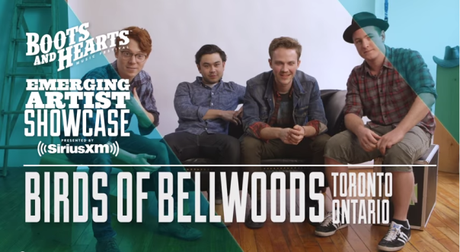 Birds of Bellwoods: I guess we felt that was the most country friendly song we had. Easily accessible, and a pretty good representation of our sound at the same time. We also love it as a song. It's a very earnest song. It's a truthful song. It's based in a story that's very dear to me and I think these guys all have there own understanding and interpretation of it. I felt like it was something that people can relate to. I think everyone's been there at one time or another. And when it comes down to it, it was also the very first song we co-wrote as a band.
We shot a live session video for it that we're pretty happy with. It was with a company called Felideye Pictures, by videographer, Julien Peter. He's a good friend of ours and we got together one day in Kintaro's backyard. We set up the mic, we set up a couple cameras and went for it. The best part is, that was actually a test shoot for a shoot that we were planning to do in the future, and then that shoot sort of crumbled in our hands. The card he was recording on was corrupted. That was just a practice run and it ended up being it.
The song itself, if it helps at all, is called "No Less Than All" and it's about letting go of a previous relationship. It's about the passage of time and taking responsibility. And I think, what we're all left wondering, once we've made our peace with this situations is, that it's remembered, and that it wasn't just beautiful for us. That there was still something special, even if it did have to end.
TC: What made you enter the contest?
Birds of Bellwoods: I've known about Boots and Hearts for a while. I've listened to country music for a while, more the pick up truck kinda music. I think it's a very honest kind of music. I've known about Boots and Hearts and I've thought it was a great festival. We saw the opportunity come up and we thought, why not? Worst case scenario nothing. It seems like the most engaged and excitable audience. It sold out in three days!
For us being picked was a huge surprise and a great honor and we'll keep doing what we need to do regardless of what happens, and if it helps us, great.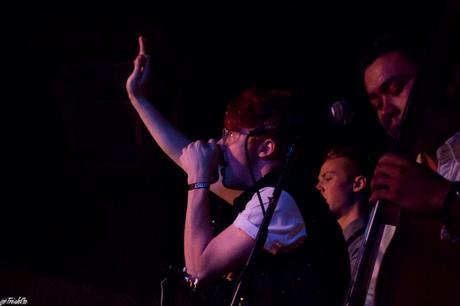 TC: What are you listening to?
Birds of Bellwoods: We just went to Bonnaroo so we listen to all the bands. We saw a lot of bluegrass music down there. Punch Brothers were great. Béla Fleck, Shakey Graves, and My Morning Jacket. A lot of our influences aren't from a country vein, they're from everywhere and it's the instrumentation that gives us the folky country sound. A lot of my early influences are more in the realm of Old Crow Medicine Show and more of the Appalachian blue grass kinda sound. Dave Rawlings, Neil Young, Joni Mitchell, CSNY. I can't stop listening to Yukon Blonde's new album. It came out on Tuesday. It's amazing. Shakey Graves, Lady Lamb, she's sort of grunge rock but she sometimes plays a banjo.
We're all really intent on supporting the musicians we're coming up with. Toronto is just filled with the most amazing musicians and we're very lucky to part of such a rapidly growing community of talent. There's a band called UKAE that we've played with a few times, Ivory Hours is another. A friend of ours, Scott Helman is doing very well. I think he's nominated for an MMVA this year.
One of the best parts about living downtown is that you just walk down the street and find hundreds of great bands. You can find a jazz band and throw a rock and hit a metal band.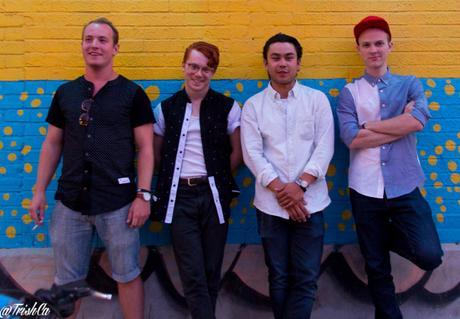 TC:
Last question, tell me something we couldn't find out about you on the internet.
Birds of Bellwoods: We have a mascot named Frank. Nope they could find that on the internet. We're debuting a song tonight that no one's heard before that is technically called Head Long but it's really called Fish Hunt. We conjured Chris with a Ouija board. He's from the other side.
He might be joking… or not.
Birds of Bellwoods is Stevie Joffe (Mandolin/Lead Vocals), Adrian Morningstar (Guitar/Vocals), Chris Blades (Banjo/Vocals), and Kintaro Akiyama (Upright Bass/Vocals) and you can find them all over the internet.
Web: birdsofbellwoods.com
Twitter: @BirdsBellwoods
Facebook: Birds of BellwoodsBandcamp: BirdsofBellwoods
Soundcloud: BirdsofBellwoods