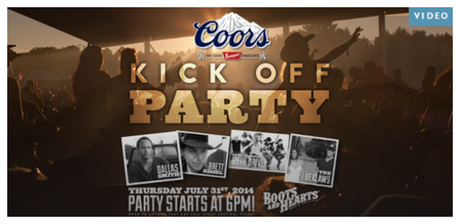 After 12 months of waiting, wishing, making predictions and previews – Boots & Hearts 2014 is here!
At 6pm today the music starts with The Reklaws at the Coors Banquet Kick Off Party on the SiriusXM stage. Natalie Stovall & The Drive, Brett Kissel, and Dallas Smith are also on the schedule tonight and I have no doubt that they will all put on great sets to get B&H started for the 3rd year.
Yesterday someone asked me who I'm excited to see at the festival and I had trouble keeping my list short-ish and not just naming everyone.
I admit that I'm hyped to see headliners Luke Bryan and Blake Shelton.
I've seen Paul Brandt at Boots & Hearts before, but I'm looking forward to seeing him again.
I can't wait to see some of the new acts like Jess Moskaluke, Trinity Bradshaw, Runaway Angel, Sam Hunt, and Dan + Shay.
It will be awesome to see Sawyer Brown and Neal McCoy who had many hits on country radio when I was a kid.
Boots & Hearts is becoming the highlight of the summer for a lot of country music fans in Ontario. And the bigger it gets, the better it gets, the more exciting it gets – the happier I am. This festival is turning into a must see and the privilege to attend as media and bring reviews and photos and interviews back to you guys makes me happy for sure.
So thank you to the people at Republic Live, Boots & Hearts, the readers here and everyone else who has made this content possible… I'm a lucky boy and can't wait to get to Bowmanville for 4 days of good times and great music!
Stay tuned for reviews, photos and interviews all weekend from Boots & Hearts!
Work Hard. Play Harder. Be Awesome!