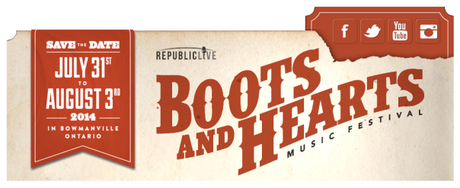 So far we have 9 acts confirmed for July 31 to August 3 on the Boots & Hearts website.
However, none of them are women. Not a single one.
And that means that at some point in the near or semi-distant future we will get an announcement of female artists added to the bill.
The question is… who will they be?
I've got some ideas. Some solo artists and a few groups that feature female voices. I don't know if I'll be right about any of these picks, I don't know if I'm even close. But there's a chance that at least 1 of these acts will be on stage in Bowmanville at Boots & Hearts 2014.
Solo Artists

Kellie Pickler
was one of my original predictions for Boots & Hearts 2014. Her 2013 album, The Woman I Am, has received great reviews from critics and fans alike. To be fair, Kellie has been a fan favourite since she came onto the scene as a contestant on the 5th season of American Idol in 2006. She's proud of her country roots, is making great country music and I think that she would be a great addition to this concert for both her music and her entertainment value. PS. Kellie follows me on the Twitter and I love her for it.

I love
Kelly Clarkson
. When she won the 1st season of American Idol there were a lot of other people that loved her too. That was September 2002. Since then Kelly has had a ton of success in the pop world, and in the last few years, in the country music world as well. From her duets with Reba (now her Mother-in-Law) and (Boots & Hearts alumni) Jason Aldean to her 2013
Christmas
special that featured Blake Shelton, we have seen Kelly Clarkson come to country with a smile on her face and awards in her hand.

Jennifer Nettles
has taken a break from
Sugarland
to record a solo album, That Girl, to be released this Tuesday, January 14, 2014. She is a superstar thanks to the success of her band which has gone to #1 on multiple occasions in the past decade. Nettles is touring the album with live shows this winter, so it's not a stretch to think that she will still be touring and looking to add big festival dates this summer.

Kacey Musgraves
has been a breakout artist on the country scene at a time when it seems like men are garnering most of the airplay and certainly the Boots & Hearts slots. She is touring with Lady Antebellum and Kip Moore in 2014 and her stock is only rising. She would make a great late afternoon billing. Maybe the lead-in to the big acts on Saturday or Sunday.

RaeLynn
and/or
Danielle Bradbery
 → Both of these young women are alumni of
The Voice
and #TeamBlake which helps their cause since Blake Shelton will headline Sunday night at Boots & Hearts 2014. Bradbery has done well on country radio with "Heart of Dixie", but she will be just 18 years old when the festival rolls around. RaeLynn hasn't seen as much success since her run on season 2 of The Voice, but she is working and recording and it would not surprise me to see the 20 year old Texas native come north of the border this summer.

When we look at the line-up we need to consider the Canadiana factor.
Carolyn Dawn Johnson
has been a success as a singer, a songwriter and an ambassador for Canadian country music for over a decade. She has hits to play (Georgia, Complicated, I Don't Want You To Go, Let Me Introduce Myself) and a public that knows them. Carolyn Dawn Johnson would fit well in the Terri Clark slot from 2012.

Beverly Mahood
is my wildcard pick as a solo artist. She hosted most of Boots & Hearts 2013 and did a great job with the crowd. But now she has a new album, Hope and Gasoline (including charting Canadian country radio singles I Can't Outrun You and Hope and Gasoline) released in , to share with the world. I would not be surprised to see her pull a little double duty in the hosting with CMT's Paul McGuire and performing roles in 2014. It could happen.
Groups

I have loved
Little Big Town
since The Road To Here album almost 10 years ago. The harmonies that these 4 individuals put together are outstanding. And with 2 female voices featuring prominently in their music, I am willing to count them as a female act for Boots & Hearts 2014. Little Big Town has been ON FIRE in the last 2 years with the fun of their
Scattered, Smothered and Covered
series and the release of Tornado in September 2012. That album has given them airplay and 4 top 40 hits on the US country charts. It should also be noted that I made LBT one of my original Boots & Hearts 2014 predictions. Oh, and they follow me on Twitter which makes me smile.

When looking for a Canadian group the
Small Town Pistols
quickly came to mind. Amanda and Tyler Wilkinson have been making country music in Canada since they sang with their dad as The Wilkinsons in the late 90s. Amanda is the lead of the duo and has also had solo success which is why I am putting them in the female artist category, much like Little Big Town. I would love to see these 2 get up on the stage in the sunshine and put on a show for the Boots and Hearts 2014 crowd.

The more I think about
Lady Antebellum
, the less I think that we will see them at Boots & Hearts in 2014. With Toby Keith, Luke Bryan and Blake Shelton booked as the feature acts on Friday, Saturday, and Sunday respectively, there just doesn't seem to be a fit for Lady A. They are a headlining act. I don't see them "opening" for someone else at the festival. And that's too bad because I would really love to see them and I don't think I'm alone in that feeling. Maybe we'll see them up on the stage at Canadian Tire Motorsport Park in August 2015.
So there we have it. 11 more names added to the list of predictions. All of them with a female voice to add to the Boots & Hearts 2014 stage. Will they all be there, HECK NO! But it would be cool if a few of them were.
For now we wait for the next line-up announcement and count the days until July 31, 2014.