Saturday night at Boots & Hearts in Bowmanville, Ontario 2 brothers and a sister took to the Main Stage and lit things up.
From the moment that The Band Perry walked on playing Done (which I predicted, you can ask Trish) the crowd was electric. Kimberly, Reid and Neil were seemed absolutely ready for the audience and they showed it in their performance. They smiled, they moved, they strutted, they were fantastic. It was a true performance.
And while we were all ready to sing along to hits like You Lie, Better Dig Two, Postcards From Paris and If I Die Young (and we did!) I wasn't expecting to hear covers like Tom Petty's Free Fallin', Queen's Fat Bottom Girls (my fav Queen tune), Fun's Some Nights (which the crowd absolutely LOVED) and Dolly Parton's I Will Always Love You (so pretty, and such a great country song).
I feel the need to point out the fact that while Kimberly is clearly the lead singer and focal point of the group, this is not a one woman show. The Band Perry is a family that performs together as a unit of 3. And they do it well by playing off each other on stage, making a point of connecting with the crowd and generally just being awesome.
With that said however, let me say this, Kimberly is a great lead singer and boy does she pack some sass into her show. Until Miranda came out on stage to finish the festival on Sunday, it was Ms. Perry who wore the Little Miss Sassy Pants crown. Trish was able to get some great shots of her and the boys from the pit and we sure as hell enjoyed the rest of the show as we moved into the crowd.
The important thing to remember is that The Band Perry is just getting started! They have an entire career ahead of them. And if they continue on the course that they are on now, we're going to be talking about them and seeing them at a lot more festivals and big concerts for years to come.
And if you get the chance to be at one of those shows, take it. Trust me. You won't be disappointed.
Work Hard, Play Harder, Be Awesome.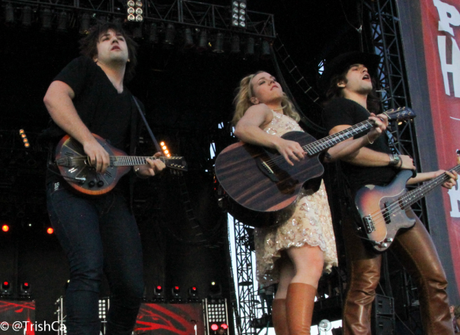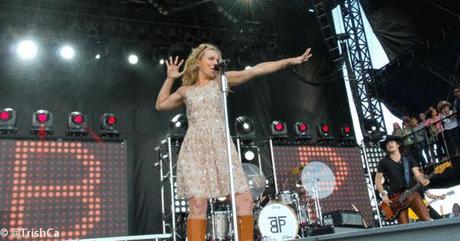 see, she's sassy!