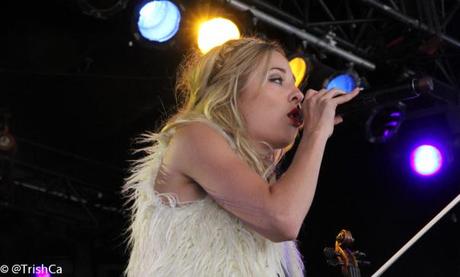 23 year old Mackenzie Porter may just be getting started in her country music career, but don't be fooled into thinking that she's just started to work. Born into a talented family in Alberta, Mackenzie has been singing and acting for years, touring with her brother Kalen before going solo.
Winner of the 2011 the Nashville North Star competition and nominee for the 2013 Rising Star Award at the Canadian Country Music Awards, Mackenzie's stock keeps on climbing.
This year Mackenzie hit Boots and Hearts like a storm, playing all day in the LUG tent on Friday and an afternoon slot on the Front Porch Stage on Saturday. We caught the Saturday set and loved it. During sound check you clearly hear her let fly some classical music, and 10 minutes later it's not a violin, it's a fiddle and this is country music.
Mackenzie's sound is young, energetic and smooth. But it doesn't alienate old country lovers. It's music that you can listen to with your grandma, but can turn up and sing loud at home too. And the more shows that she and her band play and the more she writes and the more she sticks it out, the stronger she will get.
In the lead up to her performances at Boots and Hearts 2013 in Bowmanville we asked Mackenzie a few questions. Check it out.
Josh & Trish: You've had the chance to play shows and festivals with some of the biggest acts in country music (Miranda Lambert, Kenny Chesney, Rascal Flatts, Carrie Underwood), have you received any tips or tricks from anyone to help with your stage show? And whose show has entertained you most?
Mackenzie Porter: I try to go to as many live performances as I can and at times, I will incorporate something that really moves me into my show from the ones I love. One piece of advice that I really like is "Steal ideas and make them your own." There are so many talented country acts that I've had the pleasure of watching and learning from. Miranda's show was probably one of my favorites. LOVE THAT WOMAN!!!
J&T: With acting a big part of your life to go along with music, do you see yourself as the country music version of say, Selena Gomez – is that something that you hear a lot of?
MP: I've actually never heard that before, but I'll take it

. No, really I just want to be creating music and telling stories. I'm so fortunate to be able to pursue both career paths because I truly have a passion for both….I find that they very much compliment one another!
J&T: If you could have 1 greatest hit record queued up on your iPod, whose would it be?
MP: BEATLES.. I grew up listening, singing, and performing their songs. They bring back so many memories of my childhood. GOOD AND BAD!! haha
J&T: You're active on both Twitter and Facebook, what's your favorite part of the social media experience: Sharing info with your fans, or hearing from them with encouragement and love?
MP: I do like social medias because of the instant feedback and interaction. I try to keep fans up to date with what I'm doing and try to show them who I am and what I'm passionate about. I also follow a lot of artists myself because I like learning more about the people I respect.
J&T: Congratulations on your CCMA Rising Star nomination, how does it feel to be up for an award that has had past winners like, Kira Isabella, Chad Brownlee, George Canyon, Amanda Wilkinson and Johnny Reid?
MP: Thank you!!! I'm so pumped. I went to the CCMA's for the first time last year and NOBODY knew who I was. I hadn't released any music and barely knew anyone in the industry. I remember sitting in the audience when they announced the rising star and I said to myself "I'm going to be nominated next year." Of course I say that about the Grammy's and Academy Awards every year as well.. so of course, I didn't really expect it to happen!! I'm so grateful for being nominated among so many other stupidly talented artists.
Want to know more about Mackenzie Porter? Follow her on Twitter and Like her on Facebook and Peruse her Instagram!
Work Hard, Play Harder, Be Awesome.