So if you follow me on Instagram, it shouldn't come as a surprise to you that I'M ENGAGED!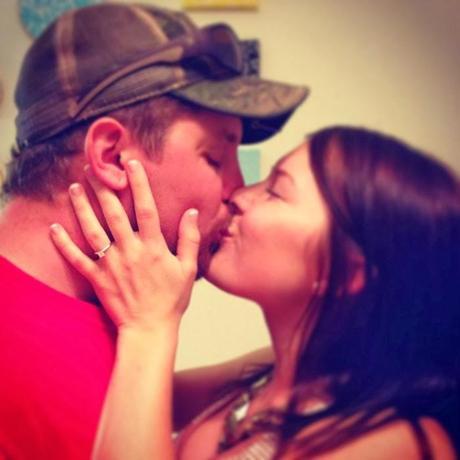 My sweet boyfriend of almost 7 years asked me to be his wife on Wednesday, October 9, 2013! Of course I said YES!
We've had a lot of people tell us that it's about time, but HELLO we started dating when I was 16. We've been through a lot of ups, downs & changes since then, but we always came back together, which is where we know we belong. I think Adam waited until the perfect time to pop the question :)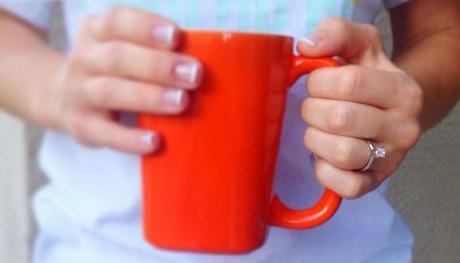 A lot of people have been wanting the "proposal story" and most of those people expect that Adam did something elaborate based on the stuff he usually does for me. but actually a few weeks ago we were casually talking about weddings and & engagements and I told him that I wanted something simple, intimate, and important to us as a couple. Nothing crazy.
Apparently he tried to make all of these extravagant plans come together, but none of them were working out. So finally on Wednesday, he said he just got this feeling in his gut that he had to do it that night (he's had the ring since July, people...which is when he asked my parents & grandparents for my hand in marriage).
We had dinner planned for Wednesday night...nothing fancy, we just grabbed some Mexican food. I was grumpy, because Adam had to work on a friend's A/C so he was late picking me up...I don't handle being hungry well ;) So we ate dinner and then I was still being grumpy, because I'm a brat. I've been throwing a fit the last few weeks, because I was upset that we weren't engaged yet. We made the choice for me to move in with my grandparents and for him to move in with his Dad so that we could save money to buy a house for when we get married. I have MAJOR pride issues, and hated telling people that when I didn't actually have a ring on my finger. Oops...brat mode again!
Anyway, after dinner Adam had plans for us to go stargazing (it was the first COOL night in Florida...yay) in the back of his truck. Then he got a text from another friend asking if he could come look at their A/C (oh the joys of dating someone in the A/C business in Florida ;)). I was already in a bad mood so I said whatever, just go. So we go over to their house (which is where one of my best friends lives) and Adam looks at their A/C unit. Meanwhile I'm inside talking (read: whining) to Crissy about being mad that he was taking so long to propose. Neither one of us knew what was about to happen.
He finishes the A/C work and we get back into his truck. He starts to drive me home, but then drives away from the driveway again. He drove us to a big field, parked the truck, and turned on one of our songs - "Hosanna" by Jason Morant. Hearing that song made it click in my head how much of a brat I was being so I apologized. Funny how your favorite worship sing will humble you REAL quick.
Under the stars, in the cool, crisp fall air, Adam takes my hand and we begin to slow dance in the bed of his truck to "Hosanna." This didn't peg me as unusual, because he's famous for putting this song on and slow dancing with me randomly to it. So we're swaying and singing, my head resting on his chest. And he whispers something that confused me. "Are you ready to stop worrying?" ...I still had no clue what was going on. He lightly pushed me to take a step back and he dropped to one knee.
HOLY SHIT THIS IS HAPPENING....is the first thought that went through my mind. I lost it. I started bawling like a baby (or a girl who's been dating a guy for almost 7 years and waiting for this moment...whichever visual you prefer). Adam said a lot of really sweet words, that I honestly can't tell you right now, because I was crying SO hard. I do remember him looking at me and saying,
"Jessica, will you be my wife?"
I lost it. I cried harder and latched onto him. I didn't even look at the ring for like 45 seconds because I was just so excited to be moving into the next step with my best friend. I responded, "YES!" right away.
We hugged and gushed. Then we went and celebrated with our friends & families!
I was proposed to on a crisp fall night, under the stars, in a field, slow dancing to my favorite worship song, in the back of a pickup truck. 

It wasn't fancy.
It wasn't elaborate.
But it was US.
It was PERFECT!

I am over the moon and can't wait to spend forever with my best friend!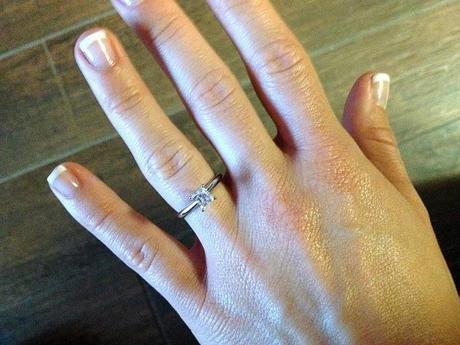 He did an amazing job on the ring (he went to Jared's y'all!)...it's exactly what I've aways wanted :)
And get this...we went to Barnes & Noble yesterday to buy a wedding planning binder and as he sat there watching me sit in the middle of the aisle with wedding books scattered all around me, he smiled and said, "You know what...this is gonna be fun!"
A  GUY WHO IS EXCITED ABOUT OUR WEDDING...win!
We're shooting to have the ceremony April 12, 2014 (yep...we already have a date picked out...I AM a hardcore type-A you know). I've already booked our photographers. I have an appointment to look at dresses on Tuesday (OMG). And we have a list of venues that we're going to look at next week so we can choose one and put our deposit down.
WE ARE SO EXCITED!
This weekend we're going to Georgia to watch Luke Bryan's Farm Tour with 5 of our friends...road trip! It's a good thing Adam decided to pop the question before I saw Luke this weekend, right? ;) Sorry Luke, I'm officially taken now.
I posted this picture on Instagram and Facebook last night...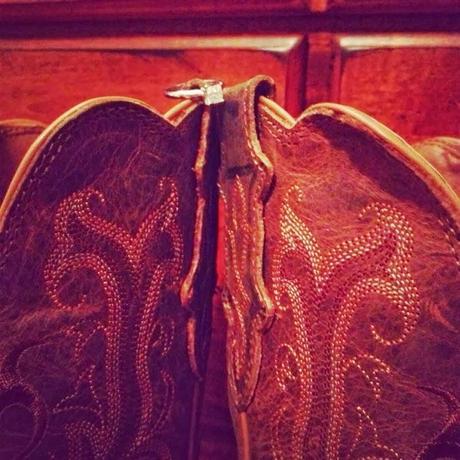 My new Justin boots came in the mail today and I got a new diamond this week.
New boots & bling in the same week?! SCORE.
A girl commented on my Facebook and said that "Boots & Bling" is perfect for my wedding theme. DONE ;)
Enjoy your weekend, y'all...I'm going to plan my wedding loving heart out and frolic on a farm with my fiancé!
:)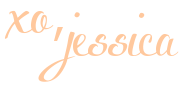 lovelylittlethingsblog.com