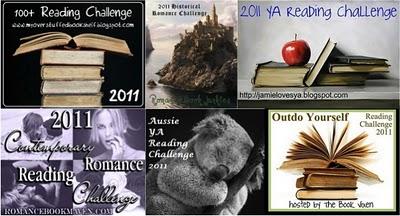 Okay! Update time!
You can see my running list of books read so far in my Books of 2011 tab in the navigation bar above, so I'll just run a tally here.
I already finished the Aussie YA Reading Challenge, 100+ Reading Challenge and the Contemporary Challenge and the YA Reading Challenge! Also, this month I finished the Historical Romance Reading Challenge!!!! 
Books read this month: 18Books read so far: 138Out Do Yourself Challenge (2011/2010 ratio by this month): 138 /66Out Do Yourself Challenge so far: 138 /121Historical Romance Challenge: 12/12
Historical Romance (challenge aside): 31
Contemporary Romance: 34
YA (Aussie and otherwise): 63
And that's my month in books! I'm so glad I've finished my challenges!!!! Also, I just started working so sorry if my posts are a bit out of schedule!!!
What say you?