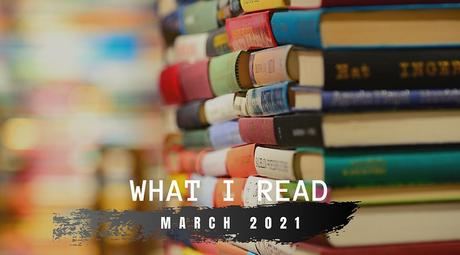 The only time I am realizing the 'passage of time' is when I write these 'What I Read' posts. Up until yesterday, I didn't care that March was almost over but now I am writing what I read and I am like, "WOAH! How is March already over? Especially when I am still mentally stuck in March 2020!" Le Sigh! It is what it is ... I might have thrown all routines and discipline out the window in this pandemic-world, but I am at least still getting my reading it. Past week, I even found my joy of reading poetry again. Can't wait to find some new string of pearls (aka poems!).
Back to books through, I got through 13 books but only a handful of them were truly worth the time. Let me know if you have more interesting suggestions that what I have been picking up from my library. 
What I read in January (1 - 10)
What I Read in February (11 - 22)
&w;JavaScript is currently disabled in this browser. Reactivate it to view this content.
23.
The Body Keeps the Score: Brain, Mind, and Body in the Healing of Trauma
by
Bessel van der Kolk
This book deals with psychological trauma, and 30 years of trying to understand how people deal with and survive and heal from traumatic experiences. The book goes into great detail about the brain, mind and body, and the healing of trauma. The lessons learned from Vietnam veterans. The minds of children, and the imprint of trauma. This book is not a light easy read by any means. It goes into great detail on PTSD, some of which I wasn't necessarily interested in and skipped over. However, the book is very accessible and surprisingly a compelling read.
24.
Something in the Water
by
Catherine Steadman
Warning: This review contains spoilers. There's no other way of ranting without giving it away.
I must admit, the first pages were intriguing. The book opens with our heroine digging a grave to bury her husband. Why wouldn't it be intriguing! Erin, our heroine, spends the entire book making the worst possible decisions. While I get this on the simple premise that there would be no book without her INSANE life choices, it's hard for me to stick with a plot that revolves around the protagonist being a complete moron.
When things go south, Erin calls her new film-star-criminal-pal to help her out, covers up the truth, and lives happily ever after. If that all sounds like a party to you, then give it a whirl.
25.
A New Earth: Awakening to Your Life's Purpose
by
Eckhart Tolle
First came the podcast, then came the book. At least for me. I was intrigued and impressed enough by Oprah & Tolle's discussion in the podcast that I decided to pick up the book. It did not disappoint. My only criticism is that Tolle is a theorist. He doesn't give many applicable examples of how to use the theories in real life. This I've had to do on my own. But the book is well worth the read. Here's the rub: you can read it and do nothing or you can read it and try to alter your way of thinking.
P.S. When will someone write a book that makes people change their lives without putting in much work? :)
26.
Single and Forced to Mingle: A Guide for (Nearly) Any Socially Awkward Situation
by
Melissa Croce
This author just knows the unnecessarily bad sides of being single, not from being single but from what people think being single is (lonely, miserable, agonizing). The author hilariously breaks the stupid myths and notions surrounding single life and offers funny yet effective responses and reactions to unnecessary questions and queries from well-meaning relatives and others. It is a fun book.
27.
Royally Crushed (Crazy Royal Love #1)
by
Melanie Summers
A pleasant diversion. The writing is quick and witty. The characters were sufficiently developed to be believable and likable. The storyline sounded great with Will the adventure man and Arabella the princess, but neither one had any personality. I am also realizing that I have rarely ever liked any book with "Royal" in its title. I also don't enjoy stories about prince and princesses. Suffice to say I will not be picking up the other books in this series but the author.
28.
Religion and the Rise of Capitalism
by
Benjamin M. Friedman
It's an economic history of how religious ideas and economic ideas from the Enlightenment were passed down through history to modern American economic and political thought. Of especially compelling were the ideas that a two party system will only advance two main ideas and with the demographics of current American religious, political, and economic thought, that is not enough representation.
29.
Daisy Jones & The Six
by
Taylor Jenkins Reid
When I started reading Daisy Jones and the Six, I knew immediately that this book was something special. The plot is fascinating and engaging, every piece perfectly in place. I loved how nuanced, vibrant, and distinct each character was. Although there was a large cast of characters, I never once got them confused or forgot who anyone was. It was also amazing to see how the characters developed and changed over time, it felt so realistic.
It has lines like: 
"I had absolutely no interest in being somebody else's muse.
I am not a muse.
I am the somebody.
End of fucking story.
This is an intelligent evocation of this specific period in time and place, the music and an unforgettable rock group of its time. It is an absolute treat to read.
30.
A Curious History of Sex
by
Kate Lister
Hilarious, compelling, and incredibly educational. While it is not a strictly chronological history of sex, as the title suggests, Kate Lister explores various aspects of sex - from menstruation to abortion to etymology - across cultures and time periods. This book is a call to normalization of the discussion of sex, and all the uncomfortable baggage it comes from, with the denigration of women at the forefront. I am glad I picked this book up.
31.
The Wrong Family
by
Tarryn Fisher 
What we are certainly not going to do in 2021 is perpetuate negative stereotypes about people with schizophrenia and other psychotic illnesses. Psychosis isn't something you sprinkle into your thriller to make it more interesting, major or minor! I would recommend this if you want to give yourself a headache or die of boredom.
32.
The Ex Talk
by
Rachel Lynn Solomon
I came here for a cute romantic comedy that would brighten my mood, but what I got wasn't cute, romantic, or even slightly funny.
It's just that everything felt so forced, the jokes, the romance, their chemistry. Everything! The only interesting thing about the book is the setting of a public radio talk show, which has been completely glossed over and served only as a backdrop for our neurotic protagonists to bicker and ultimately fall in love.
33.
First Comes Like (Modern Love #3)
by
Alisha Rai 
Happy to say that this series gets better with each book! I loved Jia and Dev's relationship, I thought the pacing was really well done and both of them didn't take 100 years to go after what they want which is a huge pet peeve of mine in books.
Ms. Rai adroitly and gently handled the sensitive issues like beliefs, conservatism, tradition, religion, grief, abandonment, self respect. Without provocation and trying to give political, social messages, she drew the line so professionally for giving us a unique romance and meaningful, motivational, poignant family bounding story with lovely characters.
34.
If I Had Your Face
by
Frances Cha
If I Had Your Face follows four young women trying to navigate everyday life in contemporary Seoul. They live in the same building but to begin with are not exactly friends. It took me a while to find the rhythm of it as it felt like I struggled in the beginning but soon I felt like the pace picked up and I understood the characters more as individuals, making the rest fly by.
Frances Cha explores friendship dynamic of the four women in the must heart-felt and moving way. I love how refreshing the prose is, you get a raw look into the beauty industry and how hard it is for some women to assimilate and keep up with the insane beauty standard placed on them.
35.

Shipped

by

 

Angie Hockman

Shipped does have a few lighthearted funny moments, but the romance is all buildup and the most underwhelming climax ever. As rom-coms go, this ended up being a disappointment for me, although I did enjoy more than half of it. The ratio of romance vs everything else isn't well balanced. I just found this one to be a little forgettable, basic, but a fun book nonetheless! I think this is a great summer read and is great if you want something low on the steam as well. &w;JavaScript is currently disabled in this browser. Reactivate it to view this content.
What books have you read recently?