Where to start? This weeks blog theme is books. I can't imagine a life without them. They have been the catalyst for so many adventures in my life.
From my first dip into Enid Blyton's Mystery series, I was hooked.  I became a detective.
One of the first books I ever bought was Heidi - a story that inspired me to travel to Switzerland. I have loved the mountains ever since.
There are so many wonderful stories. At school, I learned to love Dickens, delved into Orwell and the romantics, Jane Austen and the Brontes but as an adult I have had far less time, so every year I choose a new publication from the Booker prize list.  This habit has led me to sample the delights of other worlds.
Captain Corelli's Mandolin inspired me to travel to Kefalonia, beginning a love of the Greek islands that takes me back to sample their delights year on year.
Yann Martel's book, The Life of Pi sent me to Pondicheri in Southern India, a place that my father loved during his WW2 service and it is still on my list of places to visit.
Wolf Hall and Bring up the Bodies by Hilary Mantel broadened my knowledge of the life of Thomas Cromwell, a fascinating and very shrewd character from Tudor times.
Arundhati Roy took me back to India.  Her vivid imagery captures the Indian culture and imprints it in the mind. The heat, the sounds, the smells, the colours - all deeply engraved into each page - perfect for the armchair traveler to enjoy.
The Booker winners list has introduced me to many up and coming authors; Julian Barnes, Michael Ondaatje, Ian McEwan, Kazuo Ishiguro and The Blind Assassin by Margaret Atwood. The latter has to be one of the best books that I have ever read.
Another inspiring book, a biography this time, is The Hare with Amber eyes. A Costa prize winner. It is a magic carpet ride of a story, from Odessa, to Paris and Vienna that culminates in Japan, another place that I intend to visit because of a wonderful book.  I recommend Edmund de Waal's book to you all. It is a great read.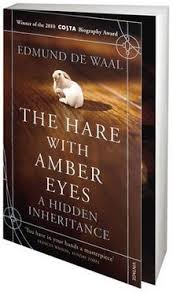 I love to read. I love books. What more can I say except that I have trouble parting with them. I do use the library but find it so difficult to return a book that I have really enjoyed. I am currently trying to reduce my hoard ready to move house. It is a gut-wrenching chore that I keep putting off.  The up-shot may be that once I move,  I hope to have room for more books and as a consequence of reading them, a whole heap more adventures.
Writing a book is another matter.  My own efforts usually crash and burn at the tenth chapter or so. I think I just lose heart.
My poem is written in the style of Joyce Kilmer
Book

s
I'm sure that I will never look
At anything as lovely as a book
A book that's crafted artfully
Whose storyline enraptures me
A book that spans the centuries
Enlightening their histories.
A book that sails the seven seas
Revealing nature's mysteries
Upon whose cover dust has crept
As patient pages quietly slept
Poems are made by fools with luck
It takes so long to write a book
Thank you for reading.  Adele
Email This
BlogThis!
Share to Twitter
Share to Facebook
Reactions: