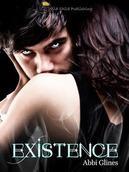 Left or Right?Dogs or Squirrels?Pizza or Burgers?Early Bird or Night Owl?Star Wars or Star Trek?Truth or Dare?
Truth. Don't trust dares.
Vampires or Werewolves?
Vampires. I have a thing for the dead.
Chocolate or Cupcakes?
Cupcakes with buttercream icing. (A: Mmm.... Buttercream)
TV or Movies?
TV
Hugs or Kisses?
Depends on who we're talking about.
Bad or Evil?
Bad, it's just more fun.
Rochester or Heathcliff?
Heathcliff. He's just more exciting.
Coffee or Tea?
Coffee
Apples or Oranges?
Apples
R
eading or Writing?
Reading
----
Well, thanks to Pagan Moore! And now I'll leave you with some more info on Existence, direct from Abbi Glines' site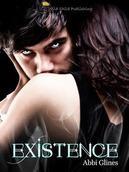 What happens when you're stalked by Death? You fall in
love with him, of course.
Pagan Moore doesn't cheat Death, but instead, falls in love with him.
Seventeen year old Pagan Moore has seen souls her entire life. Once she realized the strangers she often saw walking through walls were not visible to anyone else, she started ignoring them. If she didn't let them know she could see them, then they left her alone. Until she stepped out of her car the first day of school and saw an incredibly sexy guy lounging on a picnic table, watching her with an amused smirk on his face. Problem is, she knows he's dead.
Not only does he not go away when she ignores him, but he does something none of the others have ever done. He speaks. Pagan is fascinated by the soul. What she doesn't realize is that her appointed time to die is drawing near and the wickedly beautiful soul she is falling in love with, is not a soul at all.
He is Death and he's about to break all the rules.