This year, Buenos Aires was declared World Capital of the Book, a distinction that the Forum for the sciences, culture and education from the UN awards to a different city every year. Here in Argentina, books are such a big part of our everyday lives that getting the 2011 award was the icing on a cake that we have been eating, and enjoying, for a very long time. The work of art by our very own female version of Andy Warhol, minus the drag queens and the Velvet Underground, conceptual artist Marta Minujin, was excellent. Marta built a giant Babel Tower made of 30.000 books from around the world. The tower was on exhibition for a limited time only at Plaza San Martin.
Since Marta Minujin's tower has been dismantled, the books have been donated to charity. In a similar vein, there is currently a very interesting initiative going viral on the internet: Liberacion Masiva de Libros. This city-wide initiative, in which people leave a book in a park, a corner or a doorstep with a note inside dedicating the book to an unknown fellow reader, continues on august 14. As next Sunday (the 21st) is the Day of the Child, this date will be focused on children's' books.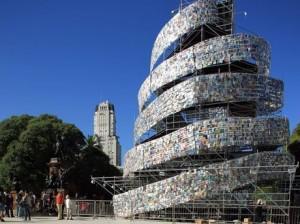 Anyway, on to our subject: Bookshops in Buenos Aires (whenever I start talking about books I tend to go off on a tangent – sorry!). As you probably have already seen, there are as many bookstores as there are psychologists (maybe not so many) in the city. The segment of Corrientes Avenue, from Riobamba to 9 de Julio, is full of bookstores: used, new, cheap and not so cheap. They stay open into the wee hours, and many well-known writers have written about them. There is one story about a man who goes from bookstore to bookstore, reading a bit of the same book in each one until he finishes the entire book, thus removing the need to actually buy it. However, there are book stores in other areas too that are worth the visit.
If you are looking for books written in English, both used and new, you can visit Walrus Books in San Telmo. Expat-owned, they have many titles with what I perceive as a focus on travel-related literature: On the Road and Dharma Bums by Kerouac, The stranger by Camus, Franny and Zooey by Sallinger, Beatniks, confusion, urban mysticism and so on… Oh, and also Bukowski. And Paul Bowles. As well as many many more.
If your Spanish is getting better, you may want to read some Argentinian authors' works (in their original language). If so, visit Ateneo Grand Splendid, which is one of those bookstores that really create an impression upon entry. It used to be a theater, and you can experience all of its vintage magnificence while reading authors such as Alejandra Pizarnik. Carlos Gardel once played there, and if you believe in ghost stories and mysticism you will love it there.
For those interested in psychology, anthropology, and sociology, there is a specialized bookstore for you too, named Paidos. It was founded by two intellectuals (naturally), a philosopher and a master in Educational Science. The store was once a meeting place for all sorts of intellectuals and social scientists, and actually still is. Paidos has two branches, both in the Palermo area.
Clasica y Moderna is another bookstore deserving of a place in this list. It is a gathering place for bohemians, musicians, and the ones who bought Beatnik literature in Walrus books. It is not only a bookstore, but also a jazz club and a cafe. Clasica y Moderna is 70 years old, and its name has never been so appropriate. The selection of titles is very comprehensive; it was there that I bought Memorias de Adriano, by Margeritte Yourcenar, for my dad's birthday and also a photography book by Robert Mapplethorpe for a friend.
If art is your thing, another place you might enjoy (other than museums shops, where there is always a good selection of art and photography books) is Pan Libros in the Belgrano neighbourhood. This store specializes in art, music and fanzines. Occasionally, documentary screenings are hosted, as well as short film mini festivals and other artsy goings-on.
Entelequia is a comic, manga, anime and fantasy (Tolkien, Ursula K.legin type fantasy) bookshop. Clerks with purple hair will come and assist you in finding whatever obscure comic book from the 70´s you might be looking for. They also deal in role-playing games and figurines.
There are many more little anonymous bookstores scattered around Buenos Aires, and by keeping your senses open, you are sure to stumble upon one of them.
Bonus Track
If you are in Buenos Aires and are a literature lover, there is a place you will enjoy visiting. Villa Ocampo is the former home of late Argentine writer Victoria Ocampo. The house, a magnificient English pintoresque-style mansion, was a sanctuary for the intellectuals of the last century. Borges, Virginia Woolf, Aldous Huxley, Le corbusier, Albert Camus, Gabriela Mistral are some examples of the fun crowd who would spend time at the villa. The walls at Villa Ocampo themselves tell tales (and secrets). You can also have a delicious brunch and learn about the house's history while you eat.
Delfina