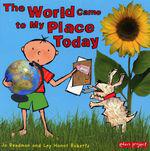 We came across this book at a sale at my daughter's nursery. So glad that we did, as I wasn't aware of the Eden Project books for children. For those of who are not familiar with it, Eden Project is a global garden in Cornwall which aims to spread the nature love.
The world really does come to visit George when his grandpa arrives, with a globe, to look after him and his sister for the day. Grandpa explains how everything from the cereal they eat for breakfast and the chocolate bars they love, to the rubber in their bicycle tyres and wood in their toys, come from plants all over the world.
Illustrations and photos are beautiful and the text is simple and engaging. A great way of explaing where our food comes from.
Which books have you been enjoying with your kids recently?
I would love for you to share your books with us.
New here? Please check out this page for more information about Book Sharing Monday.
Don't forget to come back to visit what other people had to share.
Say hello, discover new books and new blogs!
The link stays open until the following Sunday, so don't worry if you don't manage to post your book on Monday. Please add your permalink below and leave a comment after linking up.