Remember The Opposite,by Tom Magrea  and Elena Odriıozola? We love that book so when I came across The Story Blanket, I knew we had to read it. The Story Blanket is written by Farida Wolf &  Harriet May Savitz and illustrated by Elena Odriozola.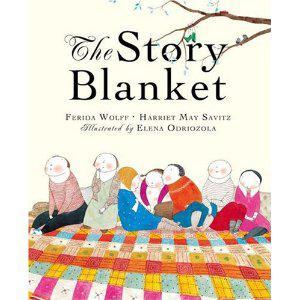 The Story of the Blanket is a story about giving and receiving. It is set in a snow bound village. The children in the village love settling down on Babba Zarrah's big old story blanket to listen to her stories. One day Babba Zarah notices there is a hole in one of the children's shoe. She decides to knit him some warm shoes. As they are snow bound, there is no one to deliver wool so she decides to unravel a little of the story blanket and use the wool for socks. Then she starts knitting  various things for people in the village and leaves them on their doorstep as a surprise. Noone understands what is going  on. Until one day,when they realize that there is no story blanket to sit on.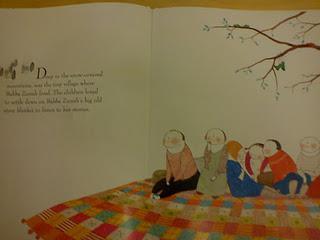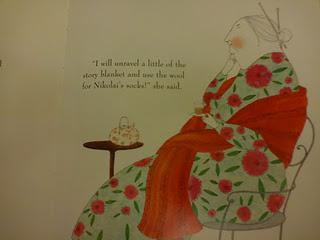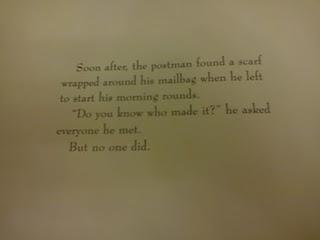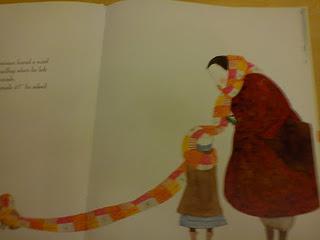 A lovely story about generosity to read during winter. Oh and the illustrations are so so beautiful. Delicate with beautiful details. I personally would love to sit on that story blanket . It is gorgeous!
What have you been reading and enjoying with your children lately? I would love it if you come and share with us. Feel free to grab my button (on the right hand side) and share the love.


New here? Please check out this page for more information about Book Sharing Monday.
Don't forget to come back to visit what other people had to share.
Say hello, discover new books and new blogs!
The link stays open until the following Sunday, so don't worry if you don't manage to post your book on Monday. Please add your permalink below and leave a comment after linking up.