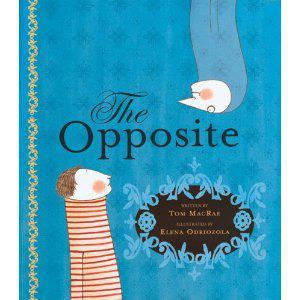 The Opposite by Tom Magrea (illustrated by Elena Odriozola) is a new favorite in our house.
"When Nate woke up one morning, The Opposite was standing on his ceiling staring down at him. And from that moment on, Nate's day is turned upside down in the most extraordinary way..."
I am not going to tell anymore about the book, instead I highly recommend you  watch it together with your kids  read by the fabulous Micheal Rosen.

Thanks to Zoe for pointing out the CBeebies Bedtime Stories read by M.Rosen.
What have you been reading and enjoying with your children lately? I would love it if you come and share with us. Feel free to grab my button (on the right hand side) and share the love.



New here? Please check out this page for more information about Book Sharing Monday.
Don't forget to come back to visit what other people had to share.
Say hello, discover new books and new blogs!
The link stays open until the following Sunday, so don't worry if you don't manage to post your book on Monday. Please add your permalink below and leave a comment after linking up.