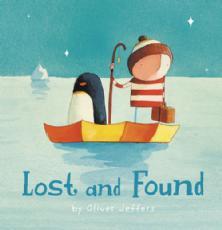 This week's book is Lost and Found by Oliver Jeffers.
Once there was a boy and one day, a penguin arrives on his door step. The boy thinks the penguin must be lost and tries to return him. But no one seems to be missing a penguin. So the boy decides to take the penguin home himself, and they set out in his row boat on a journey to the South Pole. But when they get there, the boy discovers that maybe home wasn't what the penguin was looking for after all!
Lost and Found is a heart-warming  tale of friendship and adventure.The illustrations are simple yet beautiful. It is one of those books we never tire of reading. You can check out the illustrations here.
 (We also like How to Catch a Star by Oliver Jeffers. You can read about it here.)
Which books have you been enjoying with your kids recently?
I would love for you to share your books with us. New here? Please check out this page for more information about Book Sharing Monday.
Don't forget to come back to visit what other people had to share.
Say hello, discover new books and new blogs!
The link stays open until the following Sunday, so don't worry if you don't manage to post your book on Monday. Please add your permalink below and leave a comment after linking up.