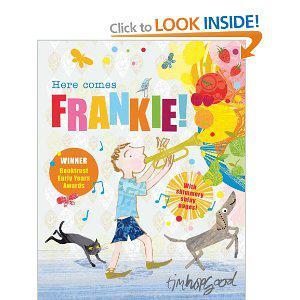 "Here comes Frankie"  is the story of Frankie who lives a quiet life with his parents. His father enjoys reading books in silence and his mom loves her crosswords in peace and quiet. Yet life is a bit dull on their road. One day Frankie decides he would like to  learn the trumpet. 

The notes from the trumpet are a rainbow of glossy colours, a fruit salad of music bursting forth like a carnival across the pages. And Frankie's parents begin to enjoy the music as well and the street begins to dance.




The illustrations are bold and colourful, sparkling imagination! Definitely one of the most beautiful children's book I have read recently.




Here is another book from the same writer that I had shared here on the blog before,


What have you been reading and enjoying with your children lately? I would love it if you come and share with us. Feel free to grab my button (on the right hand side) and share the love.


New here? Please check out this page for more information about Book Sharing Monday.
Don't forget to come back to visit what other people had to share.
Say hello, discover new books and new blogs!
The link stays open until the following Sunday, so don't worry if you don't manage to post your book on Monday. Please add your permalink below and leave a comment after linking up.