Remember A birthday for bear? I wrote about it back in April. We love the books in this series so we were very happy to come across A Bedtime for Bear on a recent visit to the library.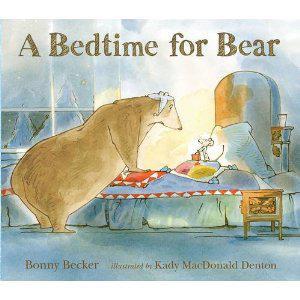 The Bear and the Mouse are not best friends and when The Mouse invites himself  for a sleepover and turns up one night, the Bear is not so happy. Because he needs absolute quiet at bedtime.
He likes to set out his glass of water, adjust his nightcap, fluff up his favourite pillow and then drift peacefully off to sleep. But the Mouse, small and grey and bright-eyed, finds it terribly hard to be as quiet as a mouse. Another lovely bedtime story by Bonny Becker.
What have you been reading and enjoying with your children lately? I would love it if you come and share with us. Feel free to grab my button (on the right hand side) and share the love.



New here? Please check out this page for more information about Book Sharing Monday.
Don't forget to come back to visit what other people had to share.
Say hello, discover new books and new blogs!
The link stays open until the following Sunday, so don't worry if you don't manage to post your book on Monday. Please add your permalink below and leave a comment after linking up.