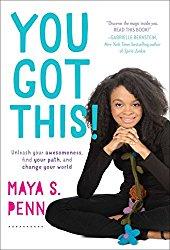 "What do you want to be when you grow up?" It's a question commonly asked of children, but sixteen-year-old Maya S. Penn wants us to know that kids don't need to wait to grow up to start making a difference in the world. She should know. She started her first company, Maya's Ideas, when she was just eight years old. She designs clothing, gives TED Talks, and has her own non-profit, Maya's Ideas 4 The Planet. I could cover this whole page with her accomplishments. And Maya wants people to know that her success is not due to her being some sort of prodigy or parental pawn. She's done it all herself by using her own talents, creativity and thirst for knowledge; seeking out opportunities; and not letting her age stand in her way.
In You Got This! Unleash Your Awesomeness, Find Your Path, and Change Your World,
Maya shares her story and advice with young people. She tells them how to get support from their parents and other adults in their life, find practical ways of turning their ideas into reality, and not let the haters get them down. She encourages kids not to let fear stop them, provides techniques for keeping track of ideas and envisioning possibilities, and profiles other young people who have accomplished great things. Even as an adult reading this book, I was inspired by Maya's enthusiasm and ideas. Perhaps I'll create my own "dream board," which Maya advises, and get started on turning my own ideas into reality.
You Got This! is inspirational precisely because it's written by a kid for kids. It's not a parental lecture or a teacher's lesson. It shows children, tweens and teens that they are more creative than they think, and that there are ways to do what they dream of if they're willing to put in the work and stay focused on their goals. Parents will also learn a lot about how to mentor their kids and even pursue their own dreams. This is a must-read for everyone.
Follow Maya at:
MayasIdeas.com
Twitter: @MayasIdeasShop
Facebook: MayasIdeas

Disclosure: I received a complimentary copy of this book to facilitate my honest review, but all opinions are my own. This post contains my Amazon affiliate link, and I will receive a small commission on purchases made through this link.