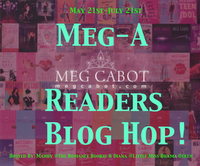 In the spirit of the
Meg-A-Readers Blog Hop
, I'm going to be reviewing one book by Meg Cabot every sunday for the duration of the event!
This week, I'm reviewing Twilight (The Original, Actually Good Twilight, as I like to call it!)
WARNING: As Twilight is the 6th and last* book of the Mediator Series, there will be spoilers about previous books.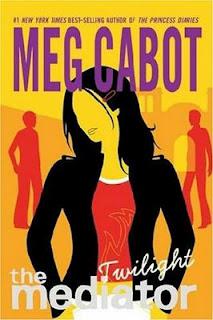 At First Sight: After almost a year of dancing around it, Suze Simon finally has the one thing she wanted the most: Jesse de Silva - the ghost that used to haunt her bedroom - has admitted he loves her and they are together. 
Or as together as a 16-year-old girl and the ghost of a guy who died in 1850 can be. But Suze is happy, except when Paul Slater - fellow mediator who seems to know more about their powers than anyone else, even Father Dom - is around, threatening first to send Jesse's ghost to the shadowland... and, later, to prevent him from even dying in the first place. 
Jesse keeps telling her not to worry about it, but Suze can't help to wonder... what If Jesse never died? and they never met? 
Second Glance: Twilight is the last* book in the Mediator series and I confess that it's probably my favorite. I waited and waited for this book and I was happy at how it all turned out - for the most part. 
Over the course of so many books, Suze and Jesse have become friends and they have fallen in love, even though they know theirs is an impossible situation, that doesn't make their feelings any more real. In this book, we finally get to see how Jesse was like when he was alive and I loved getting to know him that way too. 
Suze is still one of the most kick-ass heroines ever, and I actually love the choice she made, in the end, regarding Jesse (I'm sorry if I sound cryptic, but I don't want to spoil).
All in all, I really enjoyed this book, particularly the second part. I do have a small pet peeve with this book, but it regards the ending and it's really a small thing. 
Bottom Line: The Mediator is my favorite series by Meg Cabot and Twilight one of my favorite books, I loved the progression of the series and the places this book takes you to. Over all, I thought it was a great ending* to a great series.
Favorite Quote: "Because he's honest." I said. "And he's kind. And he puts me ahead of everything else-" 
"If you think I would leave you alone with her again," he said, his gaze never wavering from Paul's face. "you don't know me at all in this future you speak of."
1/2