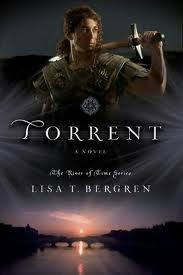 Warning: This review might contain spoilers about books 1 and 2 in the River of Time Series. 
At First Sight: Finally learning to somewhat control their gift for time-travel, Gabi and Lia Bentarrini decided to rescue their father from his future death, and bring the whole family together back to Siena. Where once again, things have changed. 
And though Castello Forelli was lost to the Fiorentini, Gabi's beloved Marcello rose to a position of great power in Siena - becoming one of the Nine who rule the city. His joy is great at having Gabi, and he wants to make it forever, even if Gabi's parents and sister aren't entirely sold on the idea.
But all that gets put on hold when they receive word of Marcello's brother's impending death. Fortino has been suffering as a captive of Firenze for close to a year and his condition is quickly deteriorating; so Gabi convinces Marcello to try a very risky plan to rescue him. But the plan might proof to be more dangerous to Gabi's heart than she ever imagined, as she's once again pushed to Lord Greco. 
Greco who is almost as handsome as Marcello and who keeps sending her mixed signals, and who might prove to be the path of least resistance...
Second Glance: Torrent is another roller-coaster ride of adventure and danger that kept pushing the story forward at a breakneck speed, and I liked that. But I did reach a point where I thought, "Okay, why can't these people ever catch a break?". 
I did love seeing more of the family dynamics of the Betanrrini family and how much they loved their dad - in a way, he's a big driving force of the decisions they make. The romance between Marcello and Gabi was sweet and swoony, and that was another big plus. 
On the other hand, I had a bit of a trouble with the love-triangle that develops in this story because it's not really my thing and I had a hard time figuring out why one of the parties was so in love so quickly. And second, I wished they had explained more about the nature of the bond between some of the characters (I won't say more to avoid spoilers, but you'll understand once you read). 
Bottom Line: Torrent was a great conclusion to this story of Marcello and Gabi, and I loved spending time with them again. I only wish I had seen them together more than appart as it was the case. But, over all, Torrent was a lovely story about all types of love: between Marcello and Gabi, Gabi and her family, Marcello and his friends, and the love they all felt for Siena.