The Uninvited Guests by Sadie Jones
Published: May 1st, 2012

Publisher: Harper Genre: Adult General Fiction Format: E-Book
Pages: 272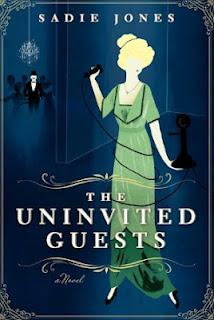 Cover Art
I love this cover. It was what attracted me to the book initially. To me, it screams 1920's and manor houses and propriety gone wrong...which is what I wanted from this book.

Plot Synopsis
A grand old manor house deep in the English countryside will open its doors to reveal the story of an unexpectedly dramatic day in the life of one eccentric, rather dysfunctional, and entirely unforgettable family. Set in the early years of the twentieth century, award-winning author Sadie Jones's The Uninvited Guests is, in the words of Jacqueline Winspear, the New York Times bestselling author, "a sinister tragi-comedy of errors, in which the dark underbelly of human nature is revealed in true Shakespearean fashion."
My Rating:

First Line:
''Since her marriage to Edward Swift, three years after the sudden death of her first husband Horace Torrington, Charlotte had changed her position at the breakfast table in order to accomodate her new husband's needs: specifically, aiding him in the spreading of toast and cutting of meat, owing to his having suffered the loss of his left arm at the age of twenty three in an unfortunate encounter with the narrow wheels of a speeding gig, out of which he had fallen on the driveway of his then home in County Wicklow."  
Pocket-Size Review
Highs: This book is all about the characters and they are wonderfully developed and well portrayed. I love rich people intrigue and scandal and spooky houses and this has it all!
Lows: Some strange word choices and huge long sentences (see first sentence above!) Also, it wasn't really a mystery at all which was what I was expecting.

Review

When I started reading this book, I was expecting a 'cosy' read; I was hoping for Agatha Christie meets Evelyn Waugh, a gripping combination of mystery mixed with upper-class intrigue. Although this was not exactly what I got, I absolutely loved it nonetheless. 
This story is set over the course of one evening in the sprawling English manor Stern House, on the night of Emerald Torrington's birthday party. Emerald is the daughter of the mistress of the house, Charlotte, and her father is the late master, Horace Torrington. When her father died, her mother quickly remarried Edward Swift, a fact which Emerald and her brother Clovis are very bitter about at the beginning of the novel. However, with their money diminishing fast, Edward is the only one who can save Stern House, and his attempt at procuring a loan takes him away from the house the night that this story takes place. That leaves Charlotte, Emerald, Clovis, their young sister Imogen and the blustering housekeeper Florence in the house that night to prepare for the guests for the impending birthday party. However, the guests who arrive are not exactly the ones who were invited and creepiness is afoot.
I loved the setting of this novel; I am a sucker for a big manor house and a nice countryside setting, particularly at the beginning of the 1900's- when I'm looking for something nice and cosy to read in bed then I will usually choose something with that setting. This book doesn't have as much description of the house and grounds that you would find in other similar novels, but it still has Rolls Royce's pulling up to semicircular driveways, glossy horses, carriages, a blustering housekeeper, a swooning mother, rich beautiful food, dressing for dinner and servants who help with your hair. I loved all of that...it felt authentic and didn't seem forced. 
The main focus of this novel, however, is not the setting. It is the characters. Sadie Jones is absolutely fantastic in this area; even though there are a fair few characters to deal with in this novel and all has their own quirks and traits, I felt I got to know them all and they were all interesting and distinctive. I loved Emerald, the birthday girl, as she has that bossiness associated with the eldest child, whilst also being naive and clueless in love. She is all glittering beauty combined with barely masked curiosity and desire for the young men she meets. She seeks apporoval from men constantly, which I found a very believable facet of her personality (she's twenty and, due to propriety has never so much as touched a man). Her brother, Clovis, is a bit of a cad and a rake...with a good heart. Charlotte is the epitome of the useless mother: she leaves her youngest daughter Imogen largely to her own devices and only pays her attention when she feels like it. She is selfish and weak and, as it turns out, hiding a dark secret. I adored the characters and their development through the novel; they go from pure class and propriety, cold icy exteriors to real emotion and feeling. The love interests and romantic bits were also very well done and I was all of a flutter at some points!
This book is also very funny: it is described as 'a comedy of errors' and it definitely is! Everything that can go wrong in Emerald's birthday party does, but although at first the guests and hosts are horrified, it actually has the effect of thawing them and bringing out their true colours. It actually becomes very sinister and creepy towards the end and I felt a little bit unnerved...I was reading at night and did catch myself glancing furtively at the open window a few times! There is also a kind of 'Lord of the Flies'- esque moment when the guests lose all sense of propriety completely, which was fascinating to read. It is strange to see characters in this time period and this setting lose control so completely, but it seemed believable due to the events that come after it and the later revelations about the particular character who induces it.
The down sides of this book are few because I really did love it, but there were a couple of things that niggled me. The author does tend to use flowery, over-complicated language and huge long sentences (see first sentence above) to describe things, and, although this does improve after the first chapter, it did make it a bit hard to get into the book at first. I would have also liked the house to have been bigger, grander, more splendid, more servants. I knowww it was crucial to the plot that there was a sense of isolation in the house and they were going broke so it couldn't have been a HUMONGOUS house...but still...I was a little disappointed! When I go into books like these I want grandeur and escapism! Also, although I loved particular characters, I did feel that in general they could have been more eccentric and unusual. There are a few too many stock stereotypes: the bustling, red-faced housekeeper, the rich, stoic man who is shocked by proceedings, the contrary younger brother, the swooning selfish mother. I think it works in this book, but other people may find it a bit too much of a character deja vu.
One very important other thing to mention about this book: there is a kitten. Called Tenterhooks. D'AWW.  I'm not sure if he helped or hindered this story as he was described as tiny and helpless, so whenever he didn't feature in the story for a while I was really concerned for his safety! What if a horse had squished him or someone had sat on him by mistake?! There is also a tense moment when a character is quite cruel towards him, and I was seriously panicking! If authors are going to put tiny kittens in their books they should be aware that some of us crazy cat lovers are going to start thinking more about the kitten than the story! It was distracting!
Overall, I would definitely recommend this book if you like books set in English manors at the turn of the century. With ghostly happenings, gorgeously developed character relationships and upper class intrigue on the side. That is what you will get.
Other Thoughts This Book has Inspired me to Read: 'Women in Love' by DH Lawrence Three Words to Describe this Book: Classy, Hullabuloo, Scandalous