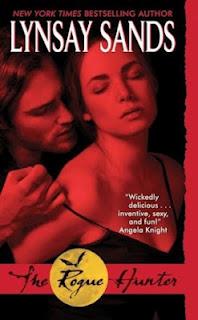 At First Sight: Vacation with her sisters in Cottage Country sounded like a really good idea to Sam Willan, a workaholic lawyer in the fast track to be made partner. She recently went through a bad break up and is quite happy to just relax with her sisters Alex and Jo, until they finally get to meet their elusive next-door neighbor and his friends. 
They all seem rather nice, and all three men are certainly very handsome, but it's Garrett Mortimer who catches her attention, at first because she can see he thinks she's clumsy as hell, and then because even with that, he seems to be very interested in her. 
What Sam doesn't know is that Mortimer is, in fact, an enforcer working for the Immortal Council, and he's in town to hunt down a rogue vampire.
Well, at least that was the reason why Mortimer and his partner Bricker were sent out to camp out with Decker Pimms - another enforcer and the girls's actual neighbor - but he didn't count of meeting his life-mate - the one person in the world whose mind he can't get into, the one meant for him - or that she would be rather clumsy and way too skinny. 
But she is his life mate, and soon he can't resist the pull her feels toward her as he learns that she's smart and funny and fiercely loving of her family. But he still has a job to do, and he needs to get it done quickly.
Second Glance: The Rogue hunter is actually the 10th in the Argeneau Series and the first of the Immortal Hunters section of it. I've read all of them to date but I have to say that it's the later ones that I find the funniest, which is I why I review them.
I had a lovely time reading The Rogue Hunter. I liked Sam instantly - she is smart and fun, she works very hard and has a great relationship with her sisters, and the insecurities her last relationship left her with were quite real. Mortimer was a great hero, he's an enforcer and has been a bachelor for close to 800 years, so he's really rusty when it comes to the whole courtship thing. 
And I actually loved that at first he wasn't exactly thrilled with finding Sam because she was not at all like he had imagined his ideal life mate to be. Usually with these type of stories, the Immortal is just happy of finally meeting someone, but Mortimer's reaction seemed more realistic to me. 
Bottom Line: All in all, The Rogue Hunter is a fun book to read, and great to relax with. The characters are likable and, even though it is the 10th book of the series, it doesn't feel repetitive or like I've been here before, which is great. This is a great book to read when you just want to have some fun.