The Name of the Wind
by Patrick Rothfuss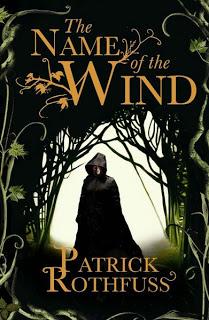 Published:
 March 27th, 2007
Publisher: DAW Hardcover
Source: Bought From Amazon
Format: E-Book
Pages: 672
Cover Art
Not one of my favorite covers, but it is dark and tells you instantly that it is a fantasy novel.
Plot Synopsis
Told in Kvothe's own voice, this is the tale of the magically gifted young man who grows to be the most notorious wizard his world has ever seen.The intimate narrative of his childhood in a troupe of traveling players, his years spent as a near-feral orphan in a crime-ridden city, his daringly brazen yet successful bid to enter a legendary school of magic, and his life as a fugitive after the murder of a king form a gripping coming-of-age story unrivaled in recent literature. A high-action story written with a poet's hand, The Name of the Wind is a masterpiece that will transport readers into the body and mind of a wizard.
My Rating:

First Lines:
'It was night again. The Waystone Inn lay in silence, and it was a silence of three parts.'
Pocket-Size Review Brilliant. Staying up until the early hours reading this book took me back to the first time I ever read Harry Potter; the world is THAT engrossing.  Highs: The storytelling is exquisite and the characters and world building are among the best you will ever read. Lows: This book is a new favorite so I am currently too enamoured by it to criticize it :-P
Review
This book completely seduced me, as I fully expected it too. As I was reading, I was enjoying it so much that I was imagining a time, perhaps a few years from now, when the story would have become blurry and fuzzy enough for me to read it again as though for the first time and enjoy it all over again. When you get that feeling, you know it is definitely going on the all-time favourites shelf.
This is a fantasy world of the most beautiful and intricate construction. It is epic in its ambition, and the myriad of characters and locations so wonderfully wrought display the sheer might of Patrick Rothfuss's imagination. A red-headed innkeeper is introduced to us right at the beginning of the novel, and the entire book centers around him, as he tells his life tale thus far to the keeper of stories Chronicler. He is waiting to die. He doesn't want his adventures and heroic deeds to be forgotten. He doesn't want the truth to be lost, the truth that lies at the heart of every story but is easily muddled and confused and elaborated upon. Why is a hero now masquerading as a lowly innkeeper? Who is his strange, passionate, fae-like companion? Why is he not doing any magic or anything impressive at all? These are the questions we want answered, and, as he launches into his tale we belive we will find out the truth. But it's not that easy. His name is Kvothe. Kvothe the Bloodless/Kvothe the Arcane. His story is tragic and exciting and epic. However, more than any of those things, it is the story of a normal boy (albeit one with the sharpest memory and a burning thirst for knowledge) growing and learning and living from each day to the ext. We get to know Kvothe, and his pain and suffering becomes almost unbearable to read. Kvothe suffers a horrendous tragedy when he is just a boy, which becomes the catalyst for many of the events in the novel. The time after the tragedy is moving and beautifully told and without anger or bitterness, but mind-numbing grief and a need to keep going and survive. It is not only the story itself that is fascinating; it is the way the yarn is woven. That expression seems appropriate as it is a yarn, a story told by a fire with a keg of ale and a young man spinning a story like cloth. Woven into Kvothe's tale are broken pieces of stories and songs, folklore, folk songs, mythology, and superstition collected from around the Four Corners of Civilization, which are all so rich and add a wonderful depth to Kvothe's story. You often feel as though you are viewing disjointed pieces of a puzzle that you can nearly see and solve, but not quite. Kvothe's story is drip fed, with little bits of important information becoming clear every now and again. I felt like the characters I was meeting were all important and extremely well-imagined, and that things would be connected in the end. The effortless drip feeding instead of the dreaded info-dumping is tantalising, and lets you know you are in the hands of a master storyteller. I felt that ever word Rothfuss used was crucial and nothing was being wasted; everything seemed to hold a significance even if I didn't know what it was. For that reason (and a few others actually) it strongly reminded me of Harry Potter, but I won't name them all for fear of spoilers! You become completely immersed in the different settings within this novel. From the painted wagons of the traveling performers (the Edema Ruh), to the grimy cesspit city Tarbean in which we experience the foul underbelly in all its nastiness, to the civilised and magical world of the University, each location is beautifully imagined and believable. Kvothe's behavior in each is modified to fit in with his changing circumstances but you never lose the essence of Kvothe; his reactions and thoughts always seem to HIM. No mean feat. The most wonderful thing about this book is how much it makes you care. It actually makes you want more from life, and makes you look at things in your own life with new perspective. Who would've thought a book set in a fantasy world with fae creatures and magic would be able to do that?! Kvothe's struggles and heartbreaks just make you ache for him, especially because we can see how he is becoming a little deranged around the edges. You just want to storm into the story and protect him from any more badness. The book itself isn't frightening but in certain parts I was terrified for the characters, and actually found myself scanning ahead a few pages to check the outcomes (which is something I never normally do!). When you have characters are powerful and unpredictable as Kvothe, Bast (his companion as an inn keeper) and Denna (love interest/awesome in her own right) you are almost terrified of their reactions to things, and how certain things will affect them. Whether it will turn them mad or make them stronger. There's a thin line in this book.  Overall, what made me properly and completely adore this book was how it made me CARE SO MUCH. Having that amount of feels can only come from masterful storytelling and world-building, not to mention brilliant character building. There are so many questions still unanswered in the story and I cannot wait to find out some answers. Other Thoughts
This Book has Inspired me to Read: The 1000 page, 400,000 word sequel 'The Wise Man's Fear'. Gimme more Rothfuss you slacker. I want Bible length for the last book.

Memorable Quotes: 
Chronicler's face grew red. "I'd heard that Kvothe was fearless," he said hotly.
The innkeeper shrugged. "Only priests and fools are fearless, and I've never been on the best of terms with God."
"Call a jack a jack. Call a spade a spade. But always call a whore a lady. Their lives are hard enough, and it never hurts to be polite."
'And if you had the right sort of mind, the sort of mind that actually sees what it looks at, you might notice that his eyes were odd. If your mind had the rare talent of not being fooled by its own expectations, you might notice something else about them, something strange and wonderful. "You've been sleeping in a church again haven't you? You get religion like I get fleas." 'Famine and plague were everywhere, and in some places there was such despair that mothers could no longer muster enough hope to give their children names.' 'I have stolen princesses back from sleeping barrow kings. I burned down the town of Trebon. I have spent the night with Felurian and left with both my sanity and my life. I was expelled from the University at a younger age than most people are allowed in. I tread paths by moonlight that others fear to speak of during day. I have talked to gods, loved women, and written songs that make the minstrels weep. You may have heard of me.' 'I wanted to take her hand. I wanted to brush her cheek with my fingertips. I wanted to tell her that she was the first beautiful thing I had seen in three years. That the sight of her yawning to the back of her hand was enought to drive the breath from me. How I sometimes lost the sense of her words in the sweet fluting of her voice. I wanted to say that if she were with me then somehow nothing could ever be wrong for me again.'


Three Words to Describe this Book: Breath-taking, Poignant, Epic.
But Don't Take My Word For It...
Blog Reviews of  'The Name of the Wind': 
Scattered Fragments says:
'

There are just some books in this world which must be read and I can't believe how long this one eluded me.

'
Best Fantasy Books says:
'Inescapably the entire novel is given over to setting up Kvothe's adventures to come. It's a wonderful introduction, but one which, despite its length, will leave you slightly unsatisfied. On finishing the novel you will have found yourself committed to the series; just letting it drop will not be a viable option.'