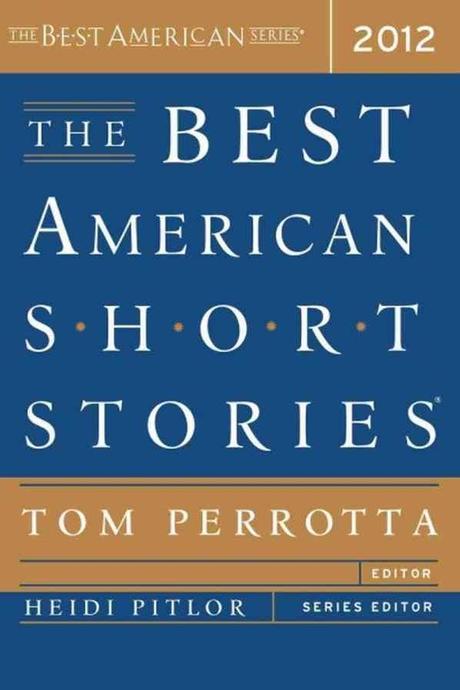 Title: The Best American Short Stories 2012
Edited by: Tom Perrotta
Series: BASS Series
Publisher: Mariner Books
Publish Date: October 2, 2012
Genre: Short Story Collection
Pages: 221
Source: Purchased at Powell's Books in Portland
Buy the Book: The Best American Short Stories 2012
Synopsis:  The Best American series is the premier annual showcase for the country's finest short fiction and nonfiction. Each volume's series editor selects notable works from hundreds of magazines, journals, and websites. A special guest editor, a leading writer in the field, then chooses the best twenty or so pieces to publish. This unique system has made the Best American series the most respected — and most popular — of its kind. (Via Amazon)
Brian's Review: Last year one of the requirements for my upper division creative writing class was to read The Best American Short Stories 2011. For the first few weeks of class we would discuss the stories, which ones worked, which ones didn't, and while I didn't care for all of the entries, there were a select few I came out absolutely loving. While I still prefer novels when it comes to pleasure reading, I'm trying to read more and more short story collections. I found a used copy of BASS 2007, which Stephen King edited, and when I saw that Tom Perrotta, easily one of my ten favorite authors, was editing the newest edition, I got excited. I love Perrotta's worlds of angst and dark humor—his novels include Election, Little Children, and The Abstinence Teacher—and knew his picks for the year's best stories would be good ones. I snatched up a copy when I was in Portland, and I've been perusing the titles one at a time for the last few weeks. I enjoyed many of the stories, but I thought, for those of you interested in the collection, that I would highlight the five I loved the most.
"Miracle Polish," by Steven Millhauser. My favorite story in last year's collection was "Phantoms," also written by Millhauser. This author has won the Pulitzer Prize, and has been prolific since the 1970′s. He's one of my new favorite writers, a kind of literary horror master. His story in this year's collection is about a man who buys a mirror from a door-to-door salesman. He cleans it, polishes it real good, then sees a new, better version of himself. He starts to polish all the mirrors, then buys more mirrors, and then… well… things get really crazy.
"Occupational Hazard," by Angela Pneuman. I'm definitely a fan of more speculative, macabre works, especially when it comes to short stories, so I was especially compelled by the unusual stories in this collection more than the others. This one hooked me into the narrative possibly more than any other story, with its icky opening of a protagonist slipping off a catwalk at a treatment plant and submerging his left leg in sewage. I thought I knew where this story was going, but then it kept surprising me.
"Beautiful Monsters," by Erich Puchner. My favorite story in the newest BASS collection was this creepy but whimsical story that had flashes of the best of Ray Bradbury—clearly Puchner is a fan of the recently departed science fiction and fantasy author. Again, another solid opening, with two children seeing a large homeless man outside and allowing him in. There are moments of gore and disgust, but also the kind of wonder you find in the most memorable fairy tales. I devoured this story with great delight, and I look forward to reading more by this talented author.
"M&M World," by Kate Walbert.  This was one of the stories in the collection that reminded me a lot of Perrotta, with a premise that seemed innocent and fun on the surface, but with darker elements once the chain of events kick in. M&Ms are one of those things in life that shout childhood and nostalgia and joy, not terror and panic, but author Walbert manages to blend these ideas into a story that build slowly but then really gets unexpectedly riveting toward the end, as we follow a mother losing a daughter in one of the most crowded, frightening places possible.
"What's Important is Feeling," by Adam Wilson. The last story in the collection is a gem, the kind of story I wasn't expecting but smiled when I discovered it. I was a film student in Los Angeles for four years, and I spent a lot of time on film sets, both good and bad, and I recognized a lot of personalities way too close to my life in this vivid, superbly realized story about everything that can possibly go wrong on a movie set. The dialog in this piece was particularly striking, and I loved the way the story played out. "What's Important is Feeling" was the story that made me laugh the most in the collection.