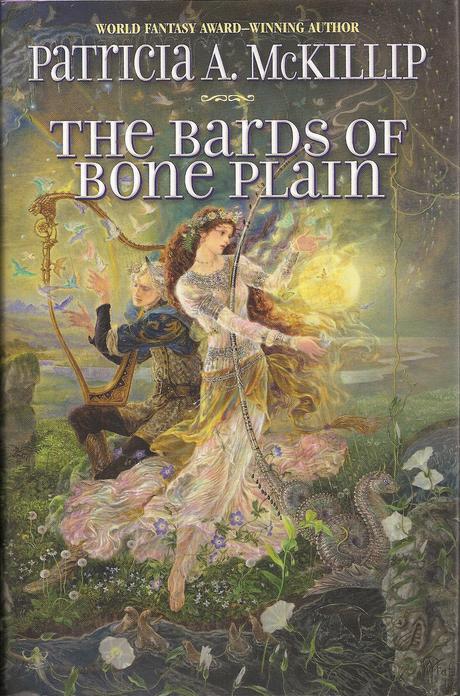 Title: The Bards of Bone Plain
Author: Patricia A. McKillip
Series: N/A
Publisher: Ace Trade
Publish Date: December 2011 (reprint)
Genre: Adult fantasy
Pages: 336
Source: Used book store
Buy the Book: The Bards of Bone Plain
Synopsis: Scholar Phelan Cle is researching Bone Plain-which has been studied for the last 500 years, though no one has been able to locate it as a real place. Archaeologist Jonah Cle, Phelan's father, is also hunting through time, piecing history together from forgotten trinkets. His most eager disciple is Princess Beatrice, the king's youngest daughter. When they unearth a disk marked with ancient runes, Beatrice pursues the secrets of a lost language that she suddenly notices all around her, hidden in plain sight. (Via Goodreads)
Shaunta's Review: I have a friend whose taste in books I trust who has told me several times that her favorite author is Patricia McKillip. When I came across a copy of The Bards of Bone Plain at my favorite local used bookstore, it was a no-brainer. I had to buy it. The cover is gorgeous. The premise was interesting. And I wanted to know what my friend loves so much about the author.
Now I'm a fan, too. The Bards of Bone Plain is a fantasy, set in an alternative present that still has a feudal system in place, told in tandem with a mythical story about an ancient bard. The two stories start far apart in time and substance, and come speeding together in the end in a way that was totally satisfying for me.
The author focuses her story around music, and her love and understanding of that medium comes through strongly. If wouldn't have guessed that a book mainly about harpists would capture my imagination, but this one did. The idea that there is some kind of magic that happens when someone with true talent plays an instrument or sings was a good one that McKillip worked masterfully in this book.
I've read some reviews since finishing this book that suggest that this isn't the best of McKillips work. I enjoyed The Bards of Bone Plain so much that I'm almost hoping that's true so that I can read a McKillip book that's even better! I don't read a whole lot of this kind of full-on fantasy, but I will definitely seek out more of McKillip's books. She's a great story teller, and anyone who knows me knows that a good story is the way to my heart.