Sweeney Todd: The Demon Barber of Fleet Street by C.G Bond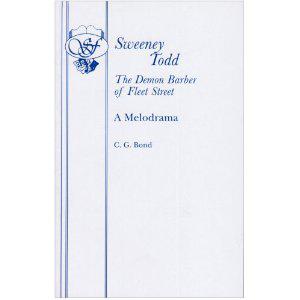 Published: February, 1974
Publisher: Samuel French Ltd Format: Paperback
Pages: 50

Cover Art
This cover is not giving much away but I like it! It caught my eye when I was drowsing the library shelves with its simplicity and bright whiteness. I think had it been blood splattered or adorned with a humongous meat cleaver I wouldn't have been as interested, but this cover lets the Sweeney Todd legacy speak for itself.
Plot Synopsis
Victim of a gross injustice that robbed him of his wife and child, Sweeney Todd sets about exacting a terrible revenge on society: slitting the throats of the customers who visit his barbershop. But things are getting complicated - a romance has developed with Mrs Lovett, the lady who runs the pie shop next door, and the disappearances are starting to cause concern. With the bodies piling up, Sweeney Todd hits upon a novel idea, and starts passing on his 'patrons' to his homely neighbor... Meat pie, anyone?
My Rating:




First Line:
''Anthony: I have sailed the world, beheld its fairest cities, seen the pyramids, the wonders of the east. Yet it is true- there is no place like home."
Pocket-Size Review
This play is vulgar, crass, bloody, gruesome...and I thoroughly enjoyed it! I like it when something fully commits to being absolutely disgusting; half-hearted just doesn't work when flesh eating is involved.
Highs: I LOVE Mrs Lovett, Todd's partner in crime. I also loved the vile scheming, the filthy depiction of London and the insane asylum; it all screams Victorian melodrama at its finest.
Lows: The ending could have been more tragic and horrible in my opinion, but I think a happy ending is probably more of a crowd pleaser!
Review
I read this play in a couple of hours after spying it on the shelves of my library and thinking, 'Oooo something violent and weird...I must have it'. And I am very glad I picked it up because I got to spend a nice couple of hours absorbed in the gore and evil schemings of Sweeney Todd, which was a pleasure. 
Right, get ready to be educated cause I got some serious facts to lay down. Did you know:
1.) The original version of 'Sweeney Todd' first appeared in the Victorian Penny Dreadful 'String of Pearls' in 1847. Penny Dreadfuls

 were a type of 

British

 fiction publication in the 19th century that usually featured lurid serial stories appearing in parts over a number of weeks, each part costing an (

old

) 

penny

. 

The term, however, soon came to encompass a variety of publications that featured cheap sensational fiction. 

They were printed on cheap pulp paper and aimed at the working classes.
2.) 'Sweeney Todd' is a Melodrama. 

The 

Victorian

 stage melodrama featured six 

stock characters

: the hero, the villain, the heroine, an aged parent, a sidekick and a servant of the aged parent engaged in a sensational plot featuring themes of love and murder. Often the good but not very clever hero is duped by a scheming villain, who has eyes on the 

damsel in distress

 until fate intervenes at the end to ensure the triumph of good over evil.

 T

he villain was always the central character in melodrama and crime was a favorite theme (such as in Sweeney Todd!)
3.) In the director's notes at the beginning of this play Maxwell Shaw gives us more information about how the Theatre presents such plays in the modern day where horror and thriller can be done much more realistically and shockingly at the movies. The Theatre's answer to this, he says, is, 'to indulge in a jolly romp, "hamming" the passion, and sending-up the romance and pathos. Snarling, leering villains, behind-the-hand asides, posturing heroes and swooning heroines are all exaggerated to the extreme.' 
4.) In the notes by the author, C.G Bond, at the beginning of the play, he acknowledges that he has left in the essence of Sweeney Todd (the pies and the chair) but he has also borrowed from 'The Count of Monte Christo, The Revengers Tragedy, The Spanish Tragedy, the family greengrocer, and Shakespeare, as well as Dibdin-Pitt's original melodrama.
5.)

C.G Bond's

 version

 of 

Sweeney Todd

 formed the basis of 

Stephen Sondheim

's 

musical of the same name, by far the most famous adaptation, which was later adapted for the big screen by Tim Burton to create the movie starring Johnny Depp.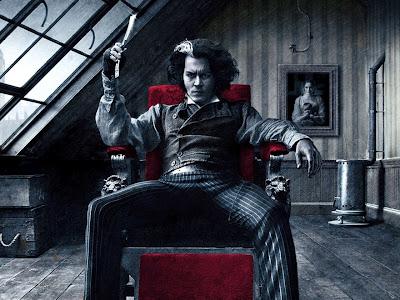 My Thoughts: OK Background Info dump COMPLETED. I hope someone out there is as interested in phrases such as 'penny dreadful' and 'leering villains' as much as me; when I read all the background info I just felt like I had to share it! Isn't it awesome that Sweeney Todd was a gothic Victorian villain!? Yes, yes it is.
Anyway, I adored C.G Bond's version of this infamous gore-fest play. It was like reading a Webster play, in that it was a revenge tragedy but a real NASTY one. Not a revenge tragedy like Hamlet; not eloquent and beautiful and haunting. This was brutal, disgusting and downright nassssty. Whilst I was reading it I was thinking dirty fingernails and rats tails in stews and rotten cantankerous sores. The streets of London smell foul around the barbershop of Sweeney Todd on Fleet Street and his questionable cellars. I loved the way there was a stench that permeated London because of the rotting flesh in Todd's dungeons. This is how I imagined Fleet Street as I was reading this play: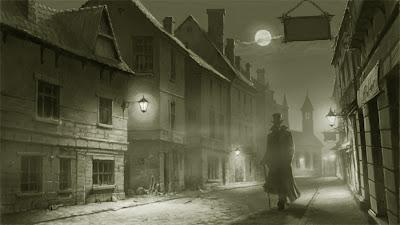 Except with more rats. Gloomy and foggy and haunted by a murderer; is there any better way to imagine Victorian London?! 
There is a fantastic bit in the play when an orphan boy, Tobias, who has been employed by Todd and Mrs Lovett to help with the pie baking, is imprisoned in a cellar after being lured there with a promise of all the delicious pies he can eat. He bites into one and finds a long hair which gets stuck in his throat. He is disgusted and tries another. This time he finds a fingernail. I love the sheer repulsiveness of that image. Maybe I just really hate finding hairs in my food but the idea of finding a hair repulses me nearly as much as the thought of actual human flesh in a pie!
Mrs Lovett was definitely my favorite character. I loved how I imagined her; a twisted old crony with a mouth full of decayed, yellowing teeth and long brown fingernails who stinks of urine and wears a blood-stained apron. There is a perfect scene where she and Sweeney Todd share a passionate moment over a huge bowl of 'black pudding mix'....of the human variety of course. Kissing and congealed blood. Yum.
If you love your Victorian sensationalist fiction and melodrama mixed with a liberal dose of blood and guts and silly heroines and chivalrous gentlemen then this is definitely a must-read. Not one for everyone me thinks but definitely one for me.
Other Thoughts
This Book has Inspired me to Read: I have just bought the original story as serialised in the penny dreadfuls for 77p on my Kindle so I will be giving that a read soon to compare!
Three Words to Describe this Book:
 Melodrama, Gruesome, Filthy.