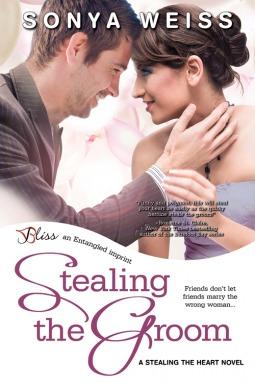 At First Sight: Chad and Amelia have been friends since they were children, as they were both brought up by their respective sets of grandparents who happen to be best friends. Now days they are still very good friends, even if their interests have diverged a lot: Amelia is happy to be a globetrotting photo journalist while Chad is taking the reins of his grandfather's company, a company that Chad's own father nearly ran to the ground a few years before.
They cross paths now and then and go on adventures together, generally being very supportive of each other...until Chad decides he's going to marry a gold-digging mean girl, in order to gain full access to his grandfather's shares in the company.
But since friends don't let friends make dumb mistakes like that, Amelia decides to kidnap him on the day of the wedding and force him to see the error of his ways, while still avoiding that awkward conversation about her own feelings for Chad. 
Second Glance: Well... this book started so, so well! It had all the makings of a funny contemporary with a friends to lovers trope, but it sadly got derailed about 2/3 of the way in.
See, Amelia and Chad are both pretty likable and they obviously have a history, which always makes it easy for me to believe they would get together. And so far it was going very well, I liked it - even though it engaged in some serious sequel baiting regarding Amelia's two sisters and two of Chad's friends - but then the somewhat even pace of the story got redoubled and the ending felt so rushed and anticlimactic. 
Bottom Line:  Stealing the Groom had the potential to be a good rom-com; but ended up being more like a bad Lifetime movie (in which the writers realized suddenly that they were already one and a half hours in and that the had about 15 minutes to wrap it up). The writing is good, though and the characters were likable, at least. 


1/2