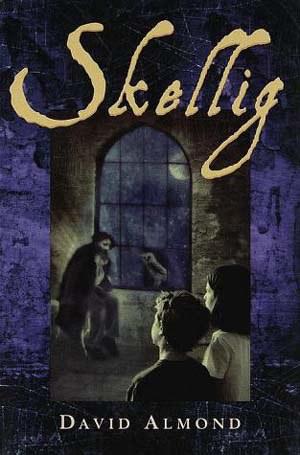 Title: Skellig
Written by: David Almond
Series: N/A
Publisher: Yearling
Publish Date: 2000
Genre: YA Magic Realism
Pages: 181
Source: Bought at Indie Bookstore
Buy the Book: Skellig
Synopsis: Ten-year-old Michael was looking forward to moving into a new house. But now his baby sister is ill, his parents are frantic, and Doctor Death has come to call. Michael feels helpless. Then he steps into the crumbling garage. . . . What is this thing beneath the spiders' webs and dead flies? A human being, or a strange kind of beast never before seen? The only person Michael can confide in is his new friend, Mina. Together, they carry the creature out into the light, and Michael's world changes forever. . . . (Via Amazon)
Brian's Review: A year ago Shaunta and I started the Printz project, where we would seek out and try to read every book that has won or has been nominated for the Michael L. Printz award, which recognizes the best in young adult fiction. If the award went back fifty years, I probably wouldn't have taken the project on, but because it's relatively new—started in 1999—I thought it was important to seek support this great endeavor and search out as many of the books as I could. I've found some real winners, namely John Corey Whaley's Where Things Come Back, and John Green's debut, Looking for Alaska. Whenever I go to my local indie bookstore, I always keep an eye out for Printz titles, and whenever I see one on sale for 3 dollars or less, I'll pick it up, no matter what. David Almond's Skellig was one of those random titles. The bookstore had 49 cents sale for middle grade books, and Skellig, which somehow found itself in this crowd, rather than the YA section, popped out at me on the very first shelf. A cool, classy cover. A great premise. And a big old P symbol on the front. I snatched it up.
Reading it over the course of two days, I was so happy I did. This is what the Printz project is all about, coming across quirky little books like this one. It tells of a budding friendship between two young kids, a devastating family crisis, and the discovery of something unbelievable in the garage. It's the kind of story you could imagine Guillermo Del Toro making into an award-winning fantasy (it was actually made into a movie in 2009 called The Owl Man, starring Tim Roth!). It's so ominous at the beginning, the protagonist Michael coming across something at the back of the garage of his family's new house. It's not a person, so much as it is a creature. But what kind of creature? He knows from the beginning it's not something to be feared. This is Skellig. I also enjoyed his scenes with Mina, who is a refreshing, inventive character. Their banter back and forth is hugely entertaining and fun, and makes for great reading. The book goes to some dark places but in the end is hopeful and uplifting, and would make a great read not just for young adults, but for older children as well, probably nine and up.
I currently have five more Printz books on my shelf, and not only does Skellig make me want to read them all very soon, it makes me want to seek out more of Almond's work. In the back of the book he talks about the magic of writing, how it consumes him, and how no matter what jobs he has held in his life, it was writing he just kept coming back to. I loved his sparse prose in Skellig, which reminded me of Aristotle and Dante Discover the Secrets of the Universe, one of my favorite titles of 2013. So when it comes to another Printz book to read, it may have to be Almond's follow-up to Skellig, the intriguing Kit's Wilderness. It's about kids finding ghosts in underground mines? Uh, yeah. I'm in.